Can I get a "slurp slurp?" Just kidding I'll never do that again.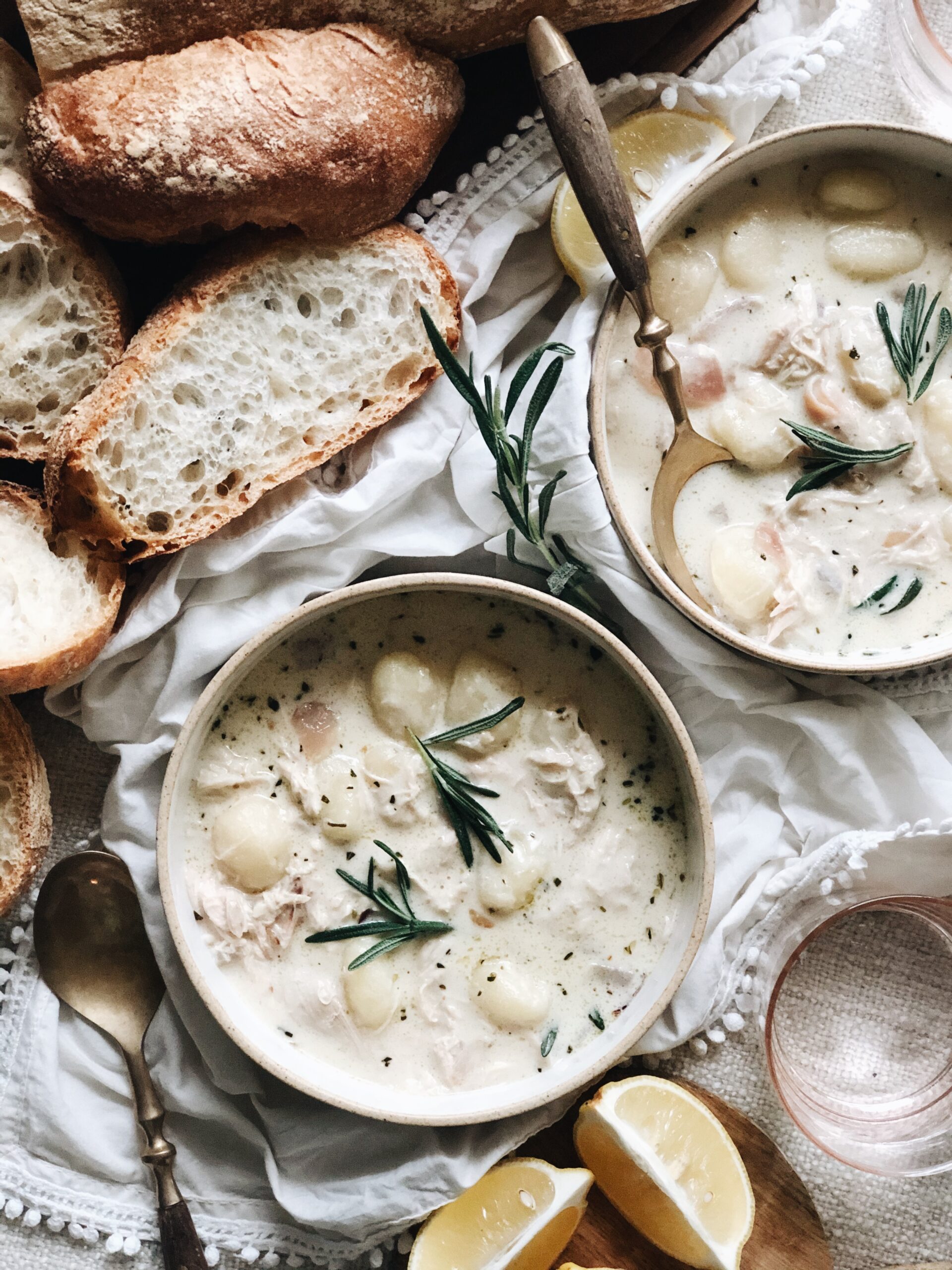 Gnocchi soup! I know how you like a good gnocchi soup. I've got one similar to this but with tomatoes and beef that went bananas a while back. And another even older version with slow cooker pulled pork. So I came up with a slightly different version for ya! Perhaps a little sleeker? With an extra dose of fall in it? Yet still rustic and simple like you know I like? Yuz.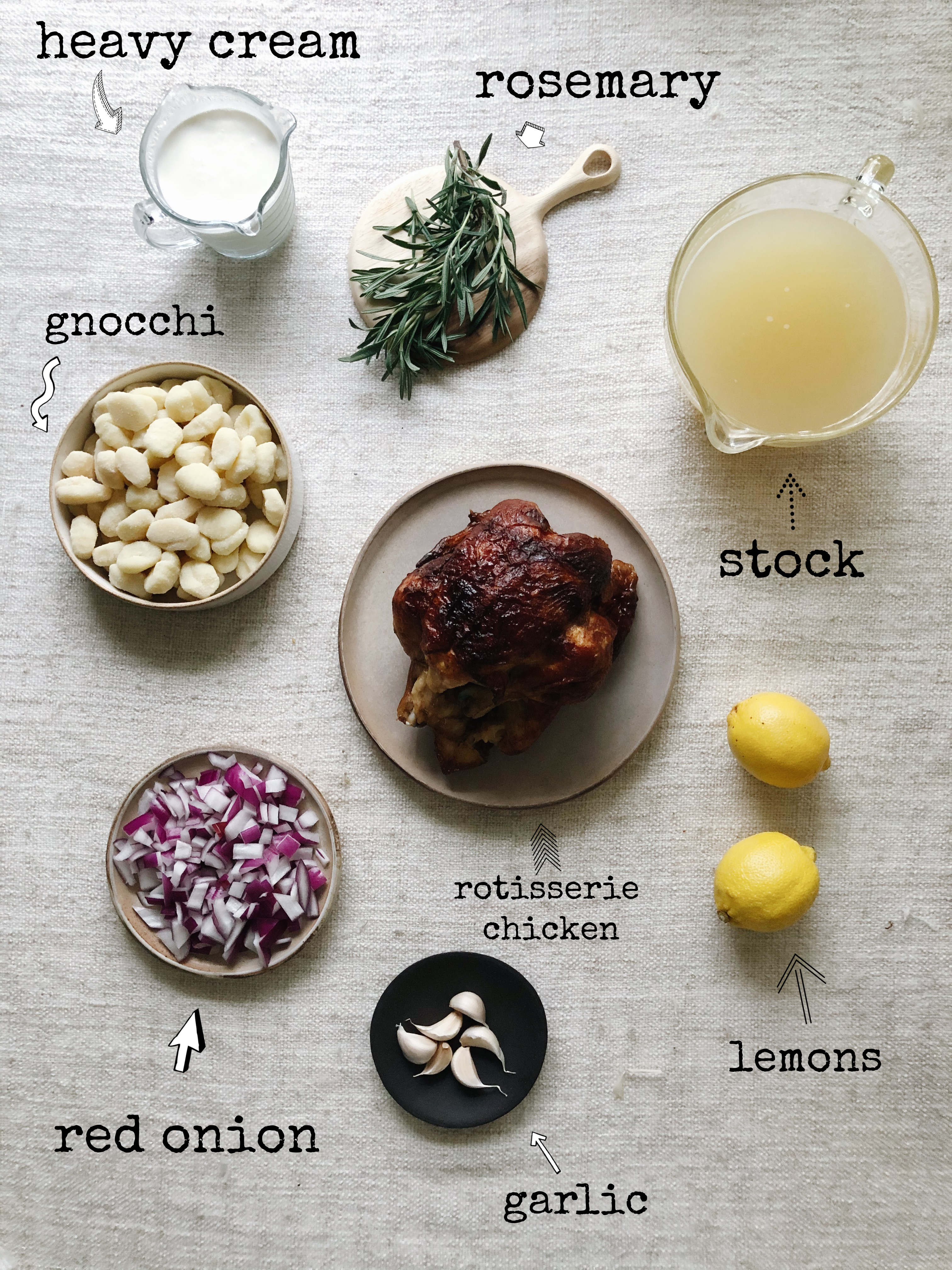 This is IT, gurl. But there's so much that happens because you're seeing those lemons, right? Yeah, you don't even know.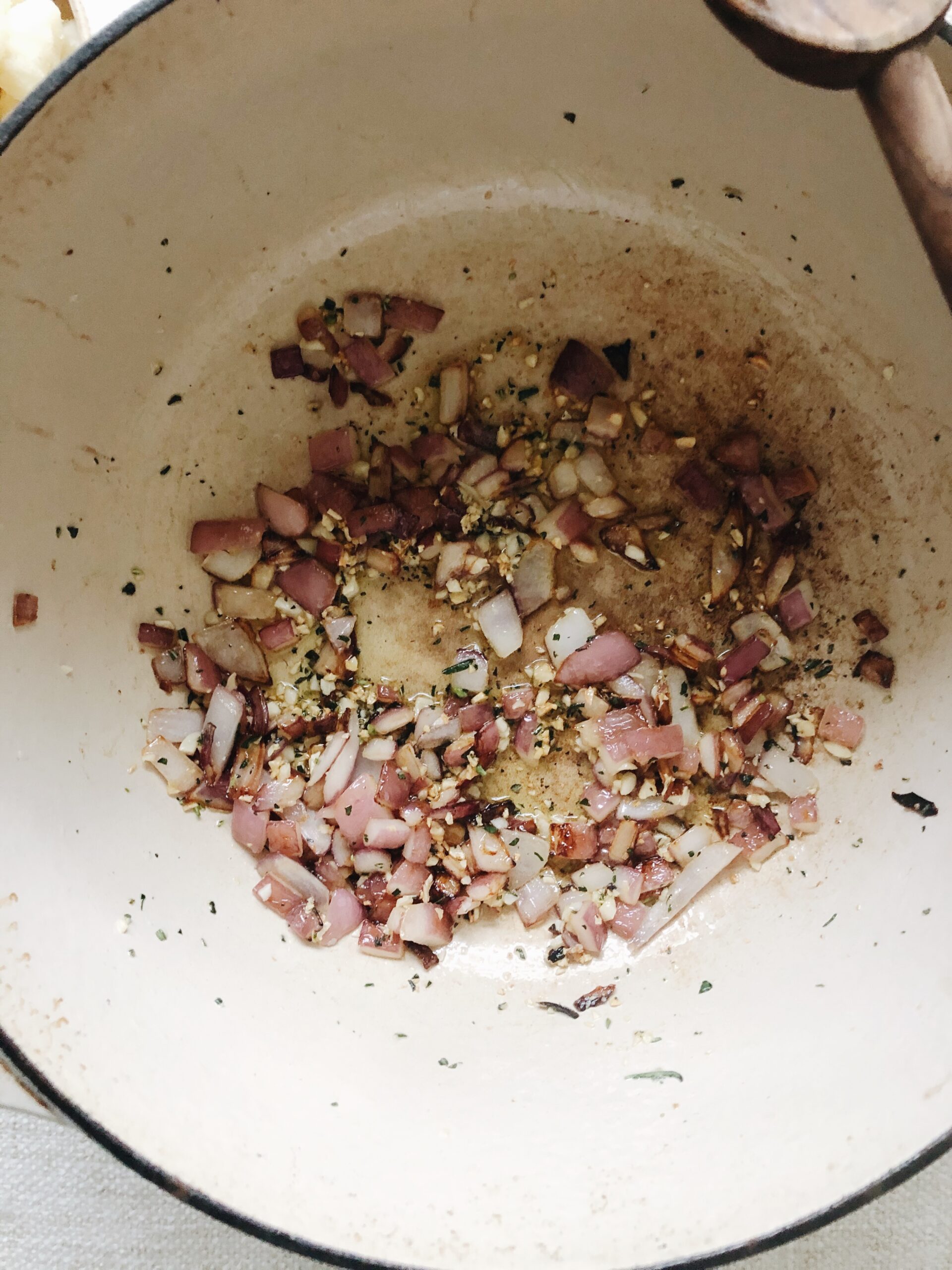 I should probably have these photos in a different order, because I did in fact shred the rotis first. But we'll pretend that I posted them in the right order, and I'll address the chicken in a second, okay? Cool.
Just sauté the red onion for a bit until it gets some good browning on it. Theeeen add the garlic and minced rosemary, with a pinch of salt, and go a little longer. The fragrance wafting up will be a boxing glove square in your face.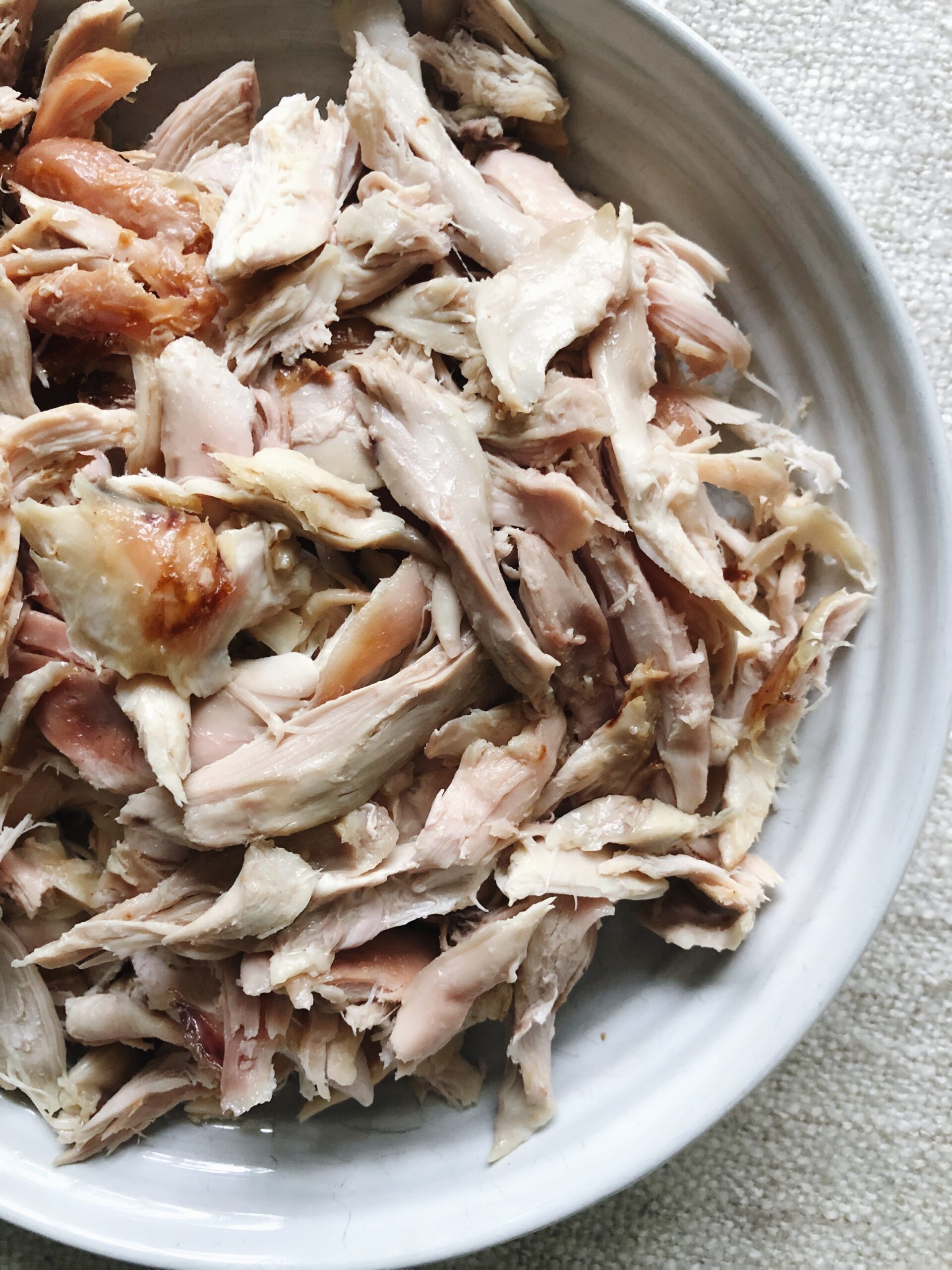 Shred that rotisserie! (see I told you we'd come back to it.) Maybe nosh on a little of the skin while you're at it because that is a righteous experience for your soul. Don't argue with me.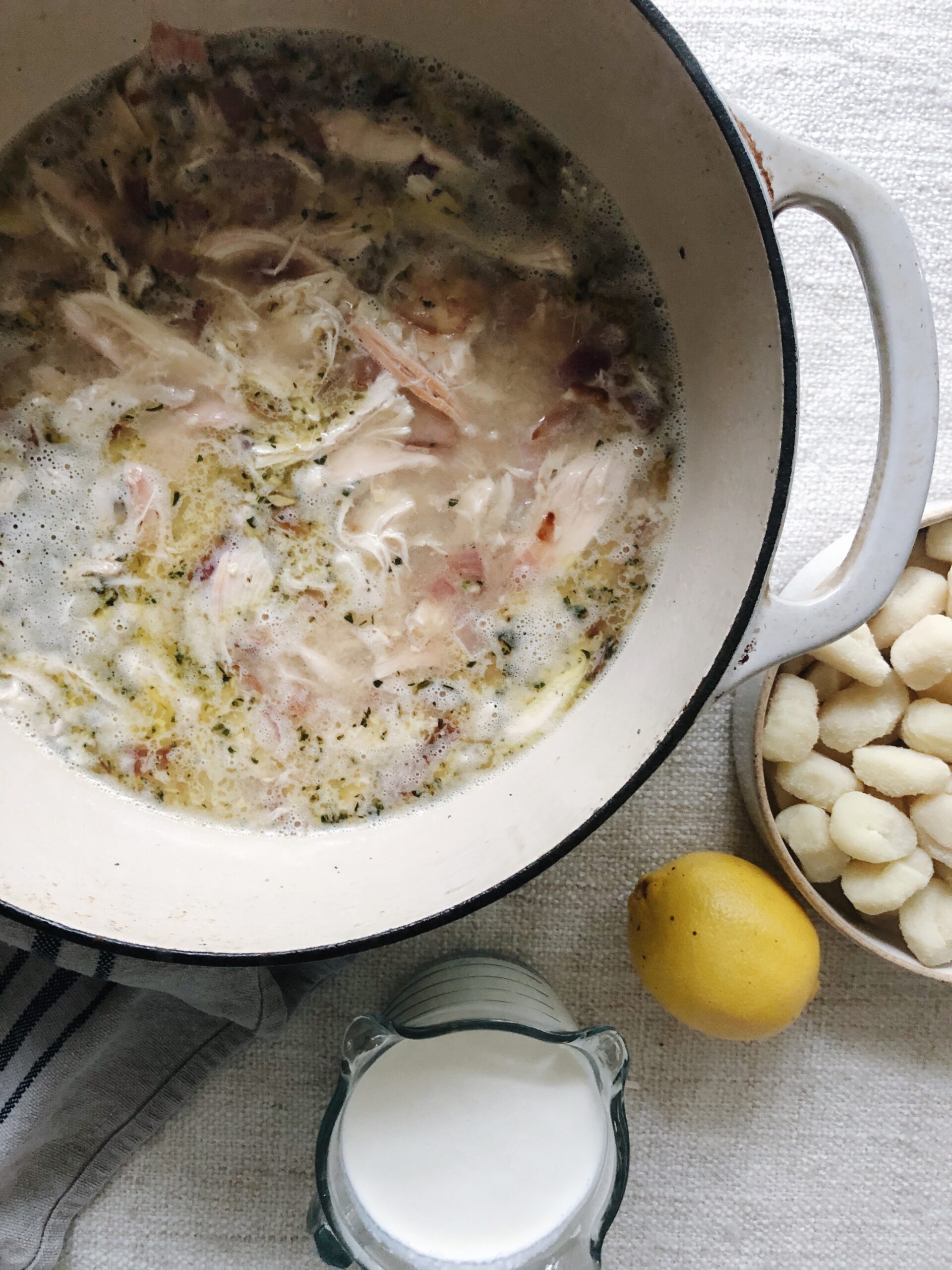 So this is what the soup looks like before you add the cream and gnocchi. Even like THIS, it's divine. The chicken already has so much flavor, and let me tell you – we've juiced an entire lemon in that. About a 1/4th of a cup. Zingy zing zing, bruh. DO IT.
Then you'll just add the cream, a package of dried (frozen is fine, too) gnocchi, let it go honestly about five minutes (the gnocchi needeth not mucheth) aaaand . . .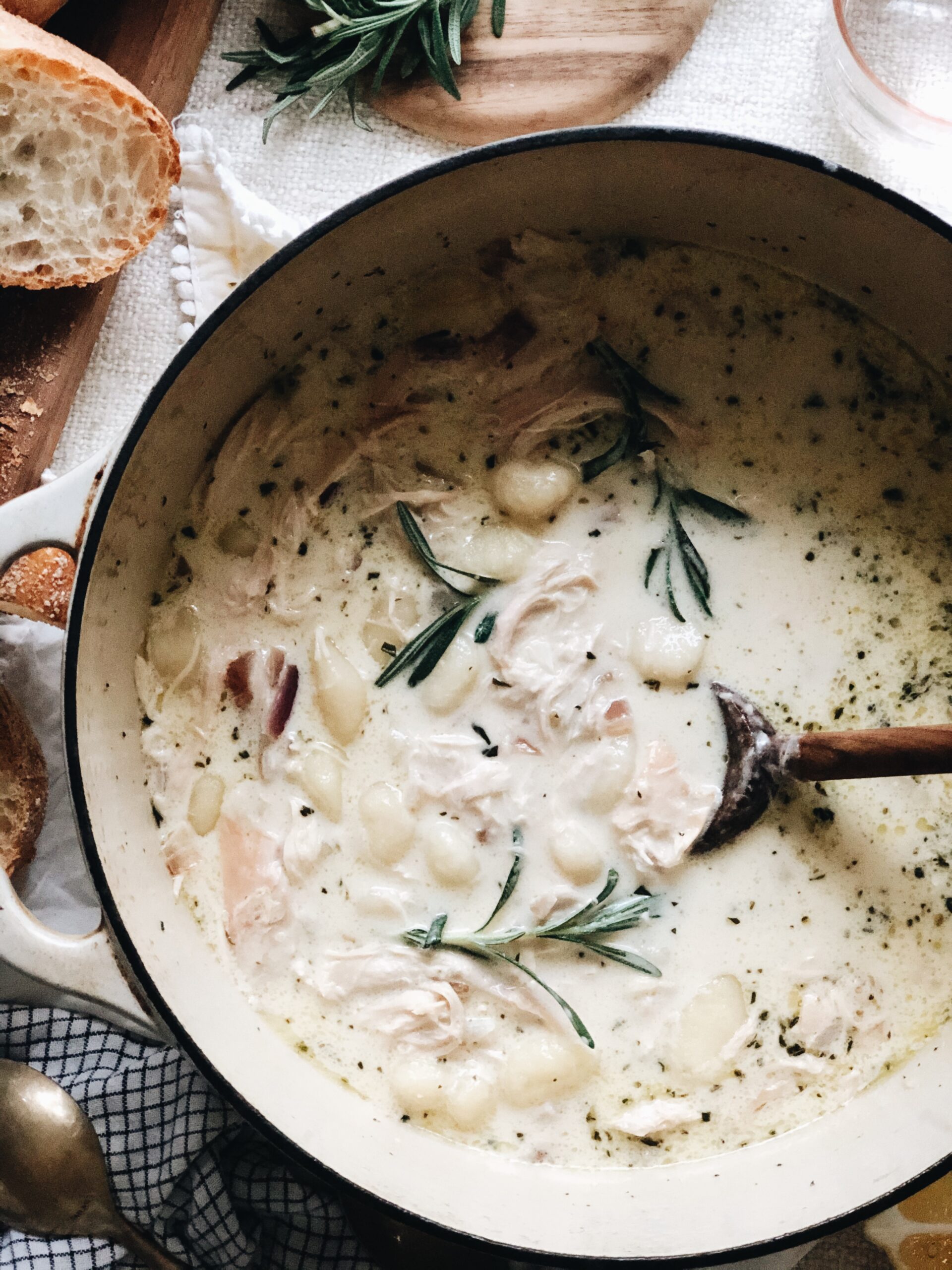 . . . Holy slurps, you guys. It is absolute rustic creamy potato pillow perfection. And with all that rosemary flavor slinking throughout? Stop it. Never stop it.
The chicken is tender and shredded, the gnocchi is gorgeously toothy, the lemon cream broth flecked with rosemary is the exact hug we all needed.
And like, we barely did a thing.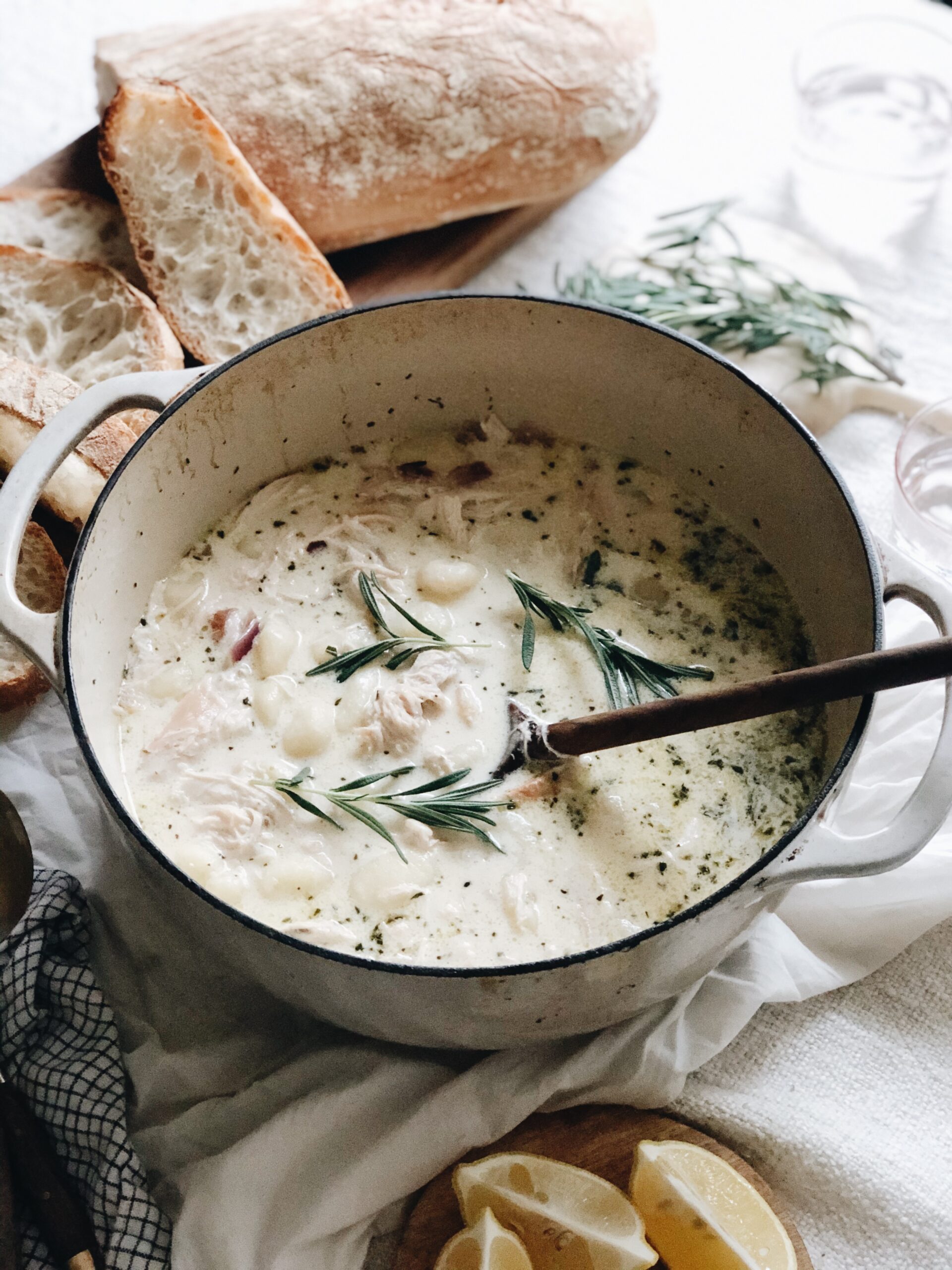 Right around 40 minutes from top to bottom, silky rustic flavors that will caress your inner soul lining, family friendly like WHOA, and simple enough for any ding dang day of the week.
You in?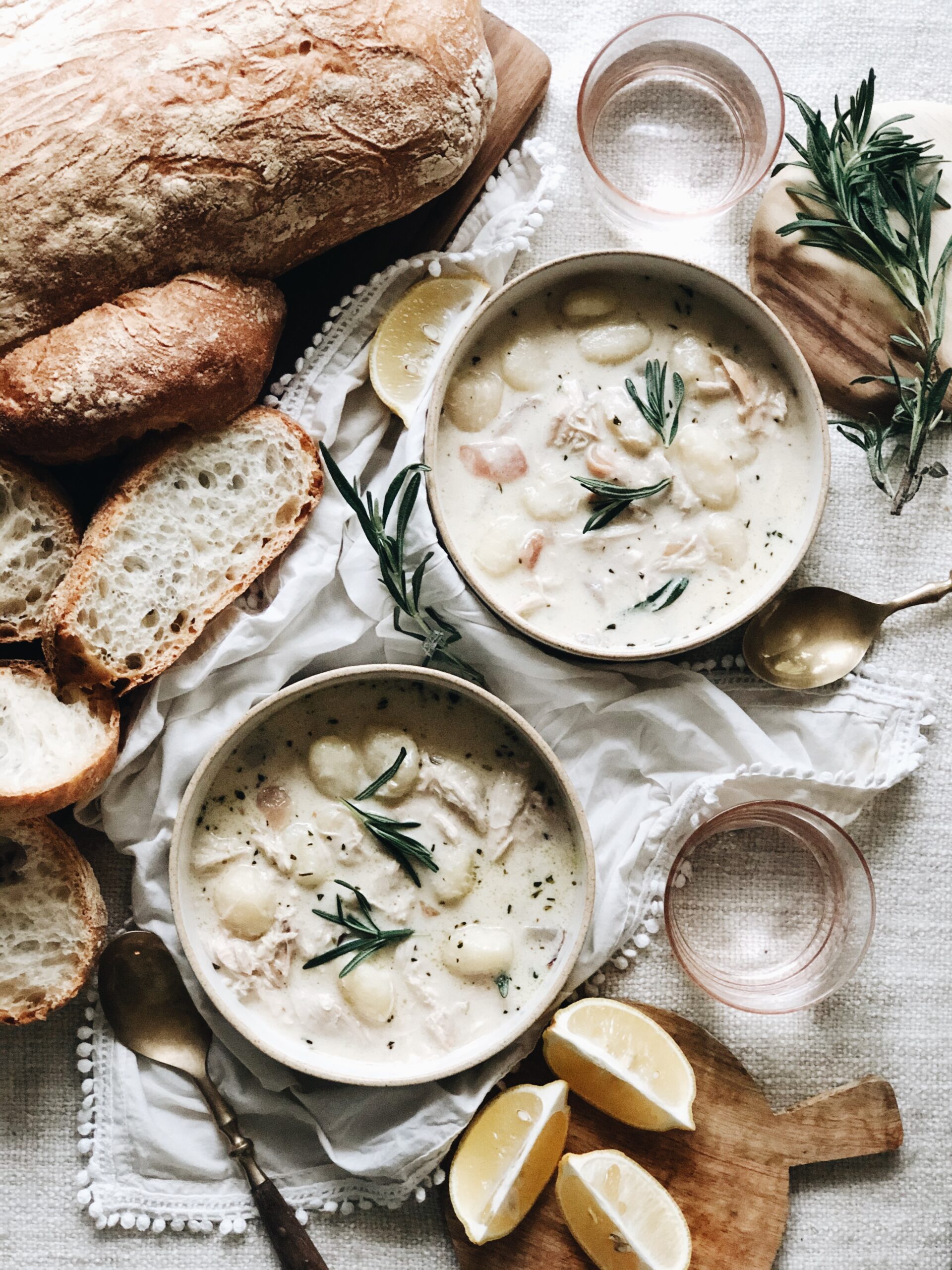 I knew we understood each other.
Creamy Rosemary Chicken Gnocchi Soup
Ingredients
1 rotisserie chicken, shredded
2-3 Tbs. extra-virgin olive oil
1/2 large red onion, chopped
5 garlic gloves, minced
1 Tbs minced rosemary, plus more for garnish
4 cups chicken stock
2 lemons, one juiced and one for serving wedges
1 cup heavy cream
1 pound dried gnocchi
Coarse salt
Crusty bread for serving
Instructions
Heat the oil in a large soup pot over medium high. Add the chopped red onion and sauté for about five minutes, until you get some nice browning all over. Add the garlic and chopped rosemary, along with a good pinch of salt. Sauté another minute or two, blooming the garlic until wildly fragrant.
Add the chicken stock, juice from one lemon and the shredded rotisserie. Bring to a boil, then reduce the heat to a medium; simmer for ten minutes. Then add the dried gnocchi and cream, another small pinch of salt, and let that simmer about five minutes. The gnocchi barely needs any time to soften. Taste it and see how that is. INSANE? I know. Add a pinch of salt if it needs.
Garnish with extra rosemary and serve with extra lemon wedges and crusty bread!
Serves 4-6.
7.8.1.2
461
https://bevcooks.com/2020/10/creamy-rosemary-chicken-gnocchi-soup/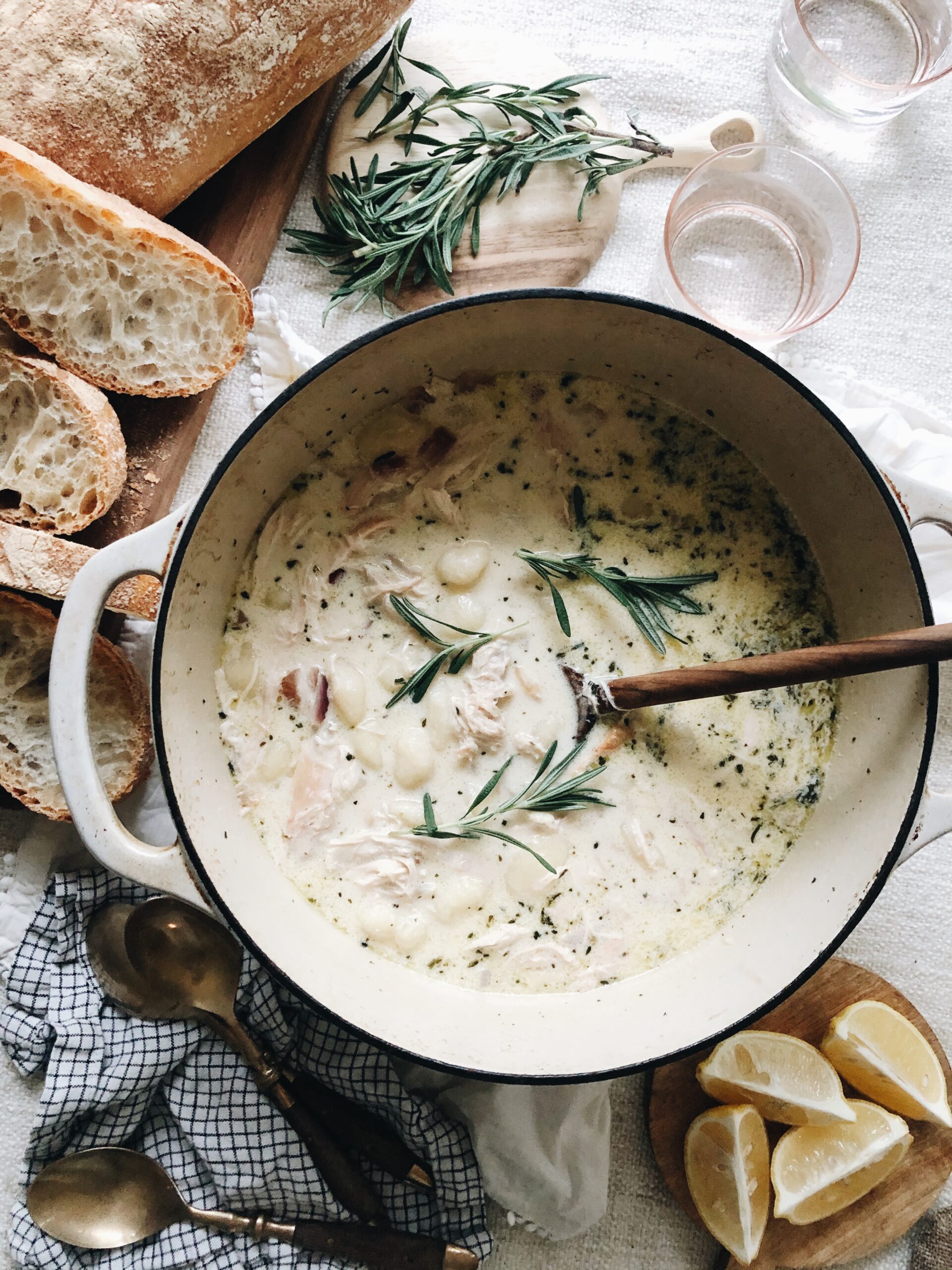 Crusty bread for all the obvious dredge dipping slash face planting. Natch.