We're so picnicky right now.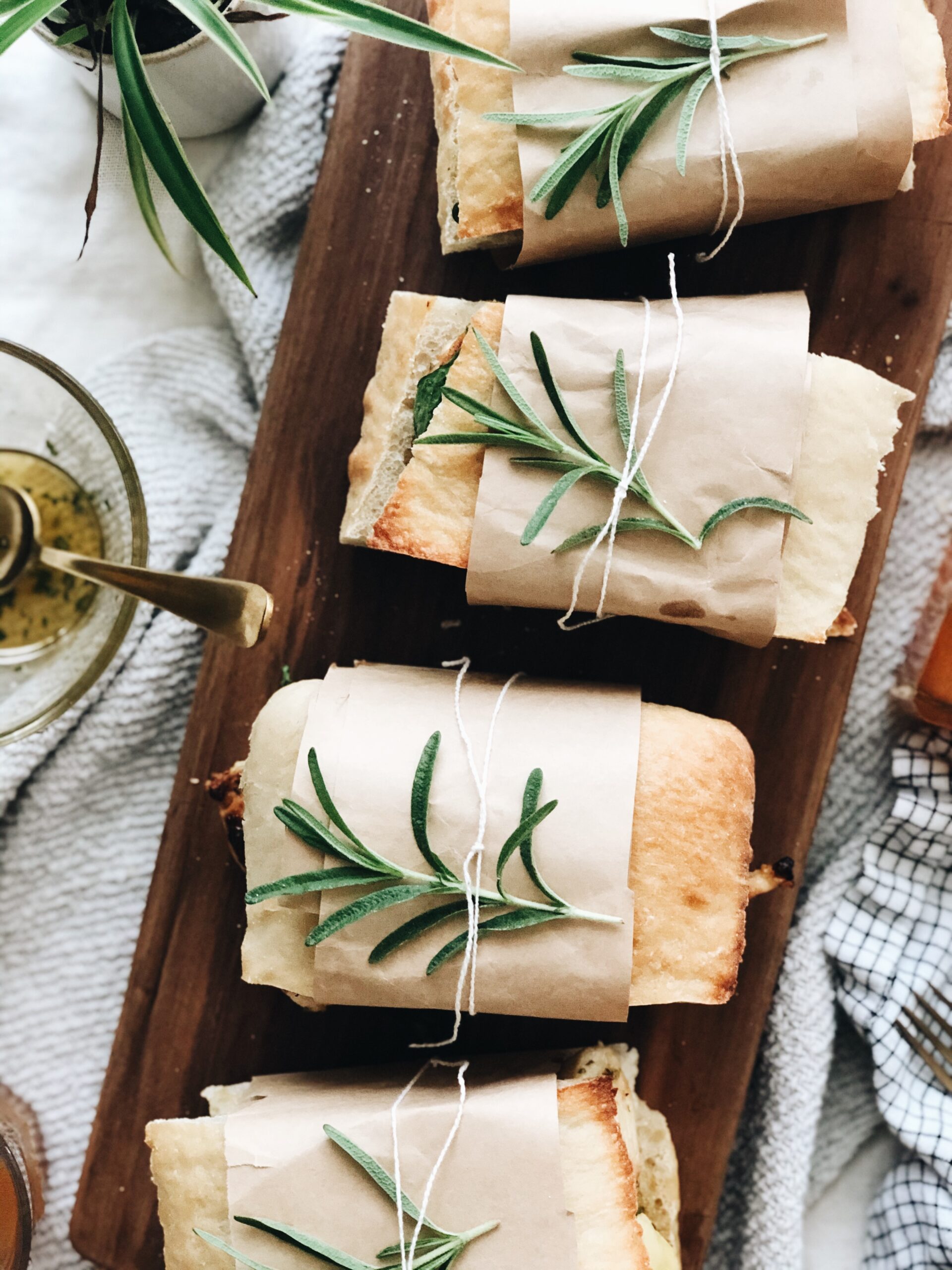 And no, this isn't Paleo, but you gotta remember we started this thing on August 1st, and I'd shot this recipe right before that. So if you're a PaleNo person, this is right up your lane.
I said lane instead of alley because no one picnics in an alley. Not unless it's oozing garden charm in the English country with vines creeping up all over it and vibrant green lush ground cover and Timothée Chalamet on horseback.
Also a back yard will do.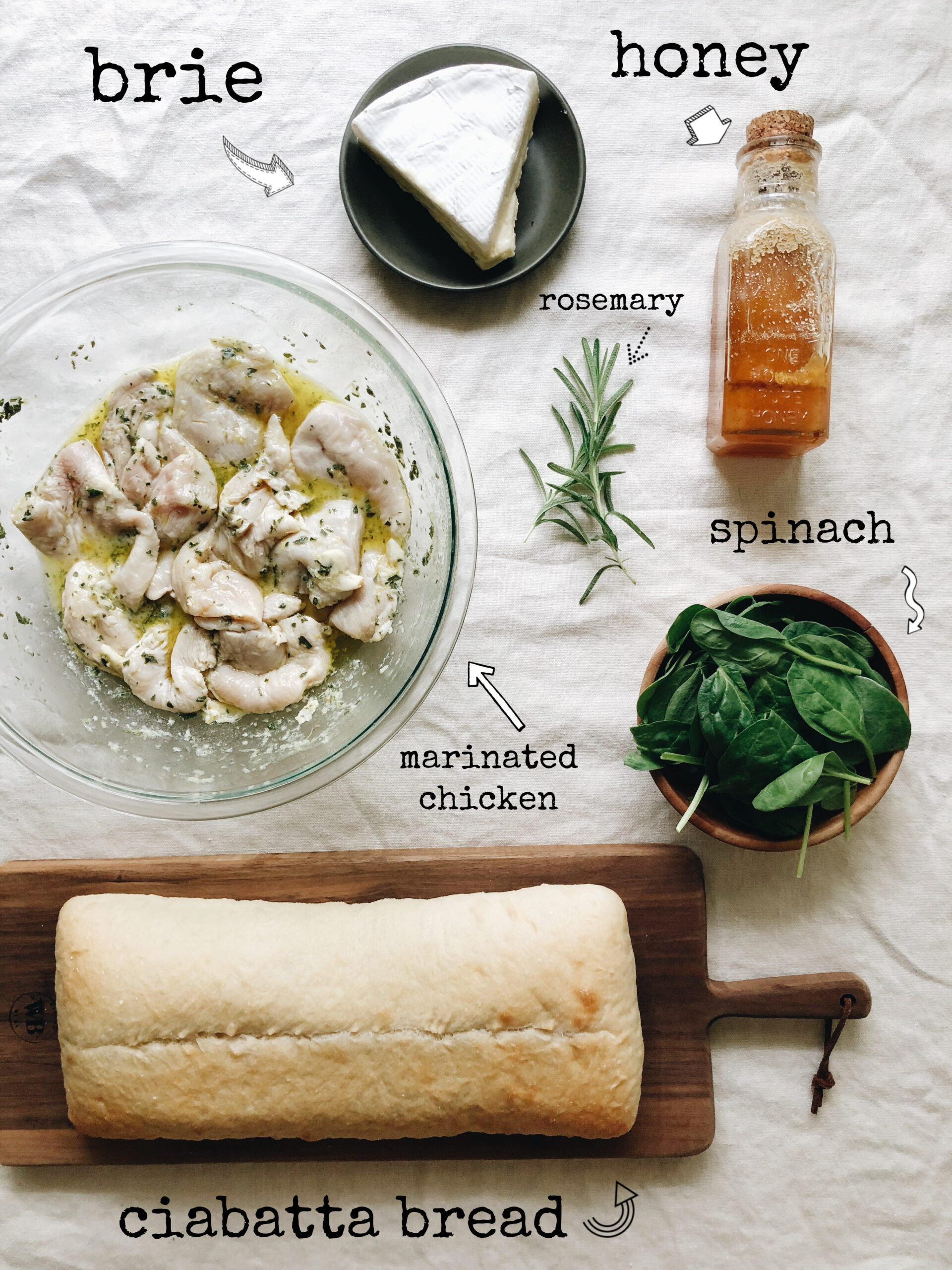 So this is what we've got! It's one of those marinate-your-chicken-early-in-the-day situations and then slap it all together at picnic (or lunch or dinner) time and boom, savory meets sweet in a toasted billowy sandwich.
I feel like your ears perked up just now.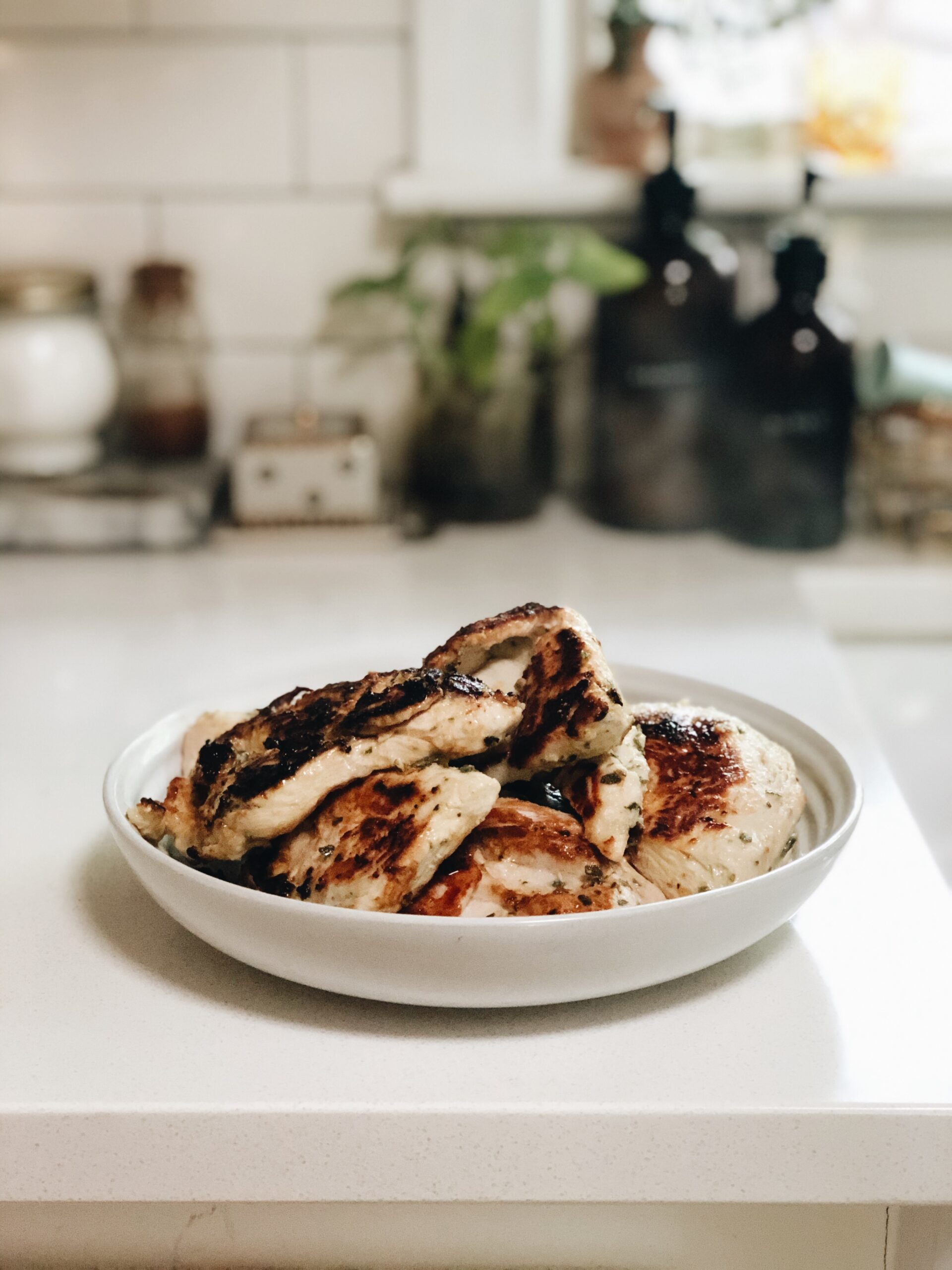 The chicken – I took three breasts (two pounds-ish), butterflied and them cut widthwise. You'll end up with two-three small pieces of chicken PER sammy. Sorry I said sammy.
Just give them a good sear on both sides. That Rosemary-heavy marinade will carry through in the chicken and it's suuuuch a rewarding mouth experience in the end. That was an odd way of saying it's tasty, but I think you can live with it.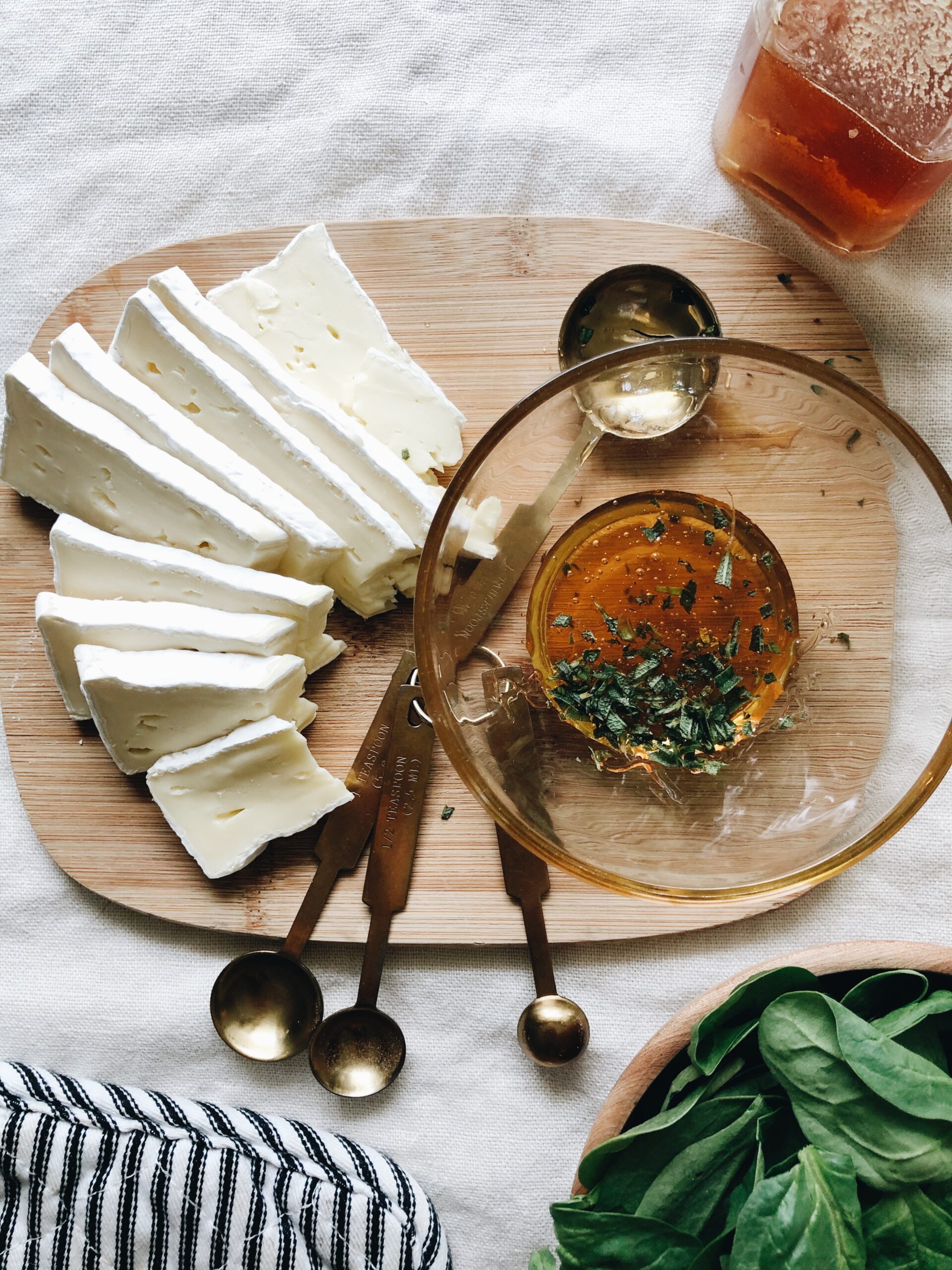 Here's our honey sauce – it's literally just honey + minced Rosemary. I'll show you what we do here in a second. SIMMER DOWN, okay?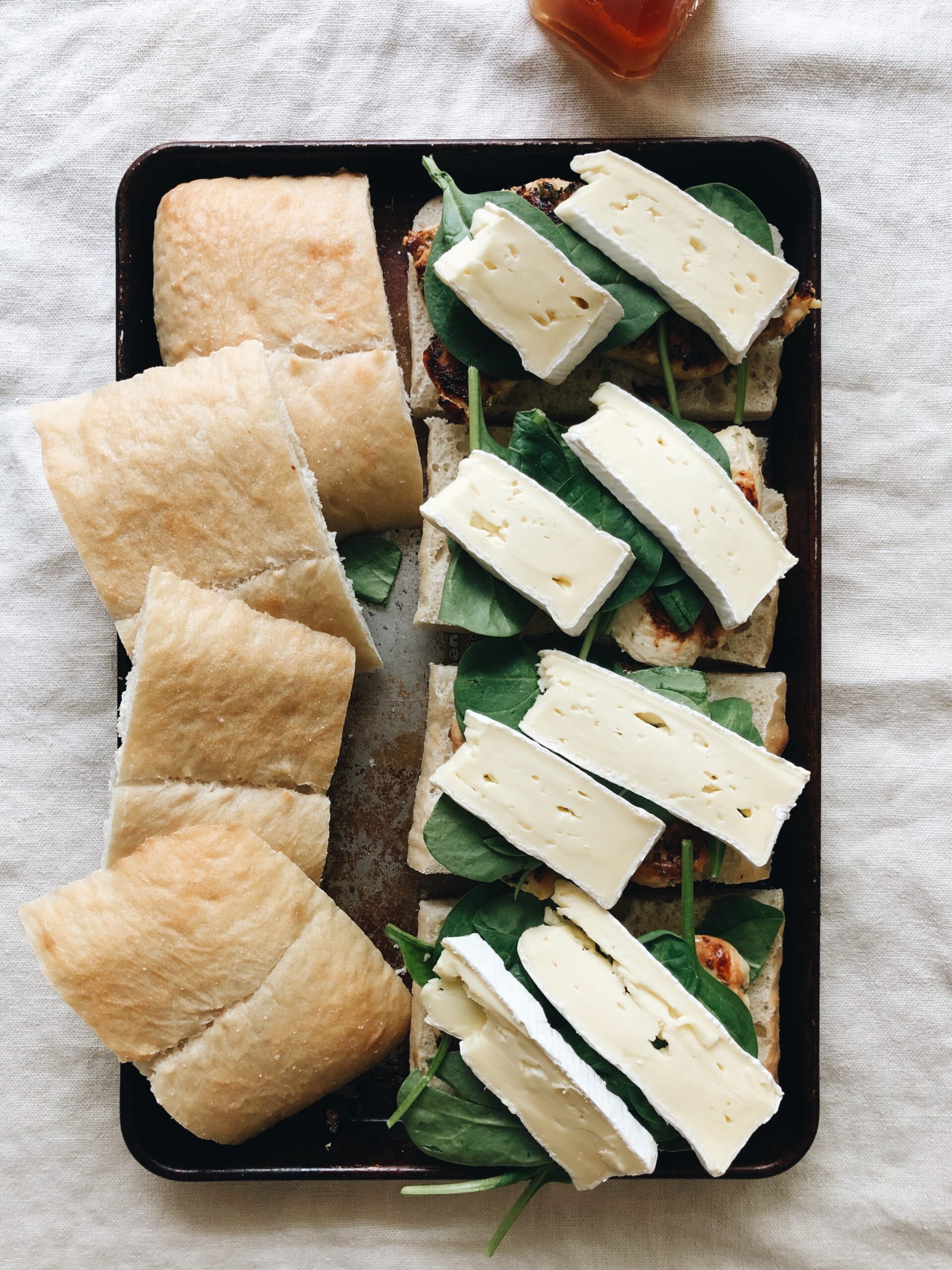 You can take that honey sauce and spread it over the bottom Ciabatta half if you like. You can also spread a little mayo if that's more your bag.
Then just layer two or so pieces of cooked chicken on top (depending on their size and how much you can get on there without getting mad at me), then a few spinach leaves, and a couple of brie slices. This is about to go in the oven for a few minutes, so put all this on a baking sheet like I did, or else your hair follicles will be haunted with cave crickets for the next 17 months.
Look I don't make the rules.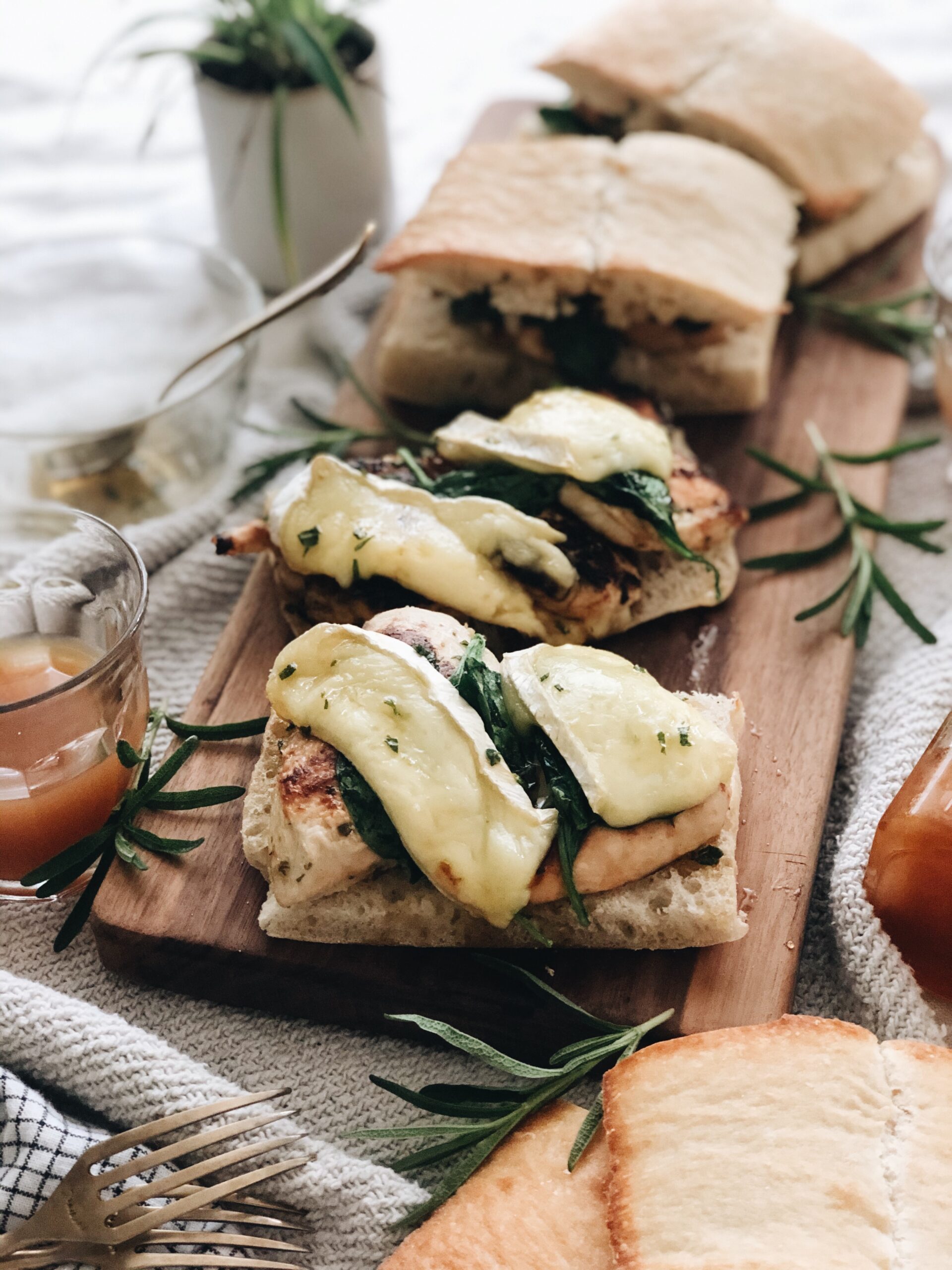 Look at that OOZE, man. Such unruly lusciousness, staring us right in the face.
Take that honey sauce and spoon it over the cheese. Just go for it. This is that sweet on savory bliss, and you'll thank me for it.
Spoon a little more. You know what's good for you.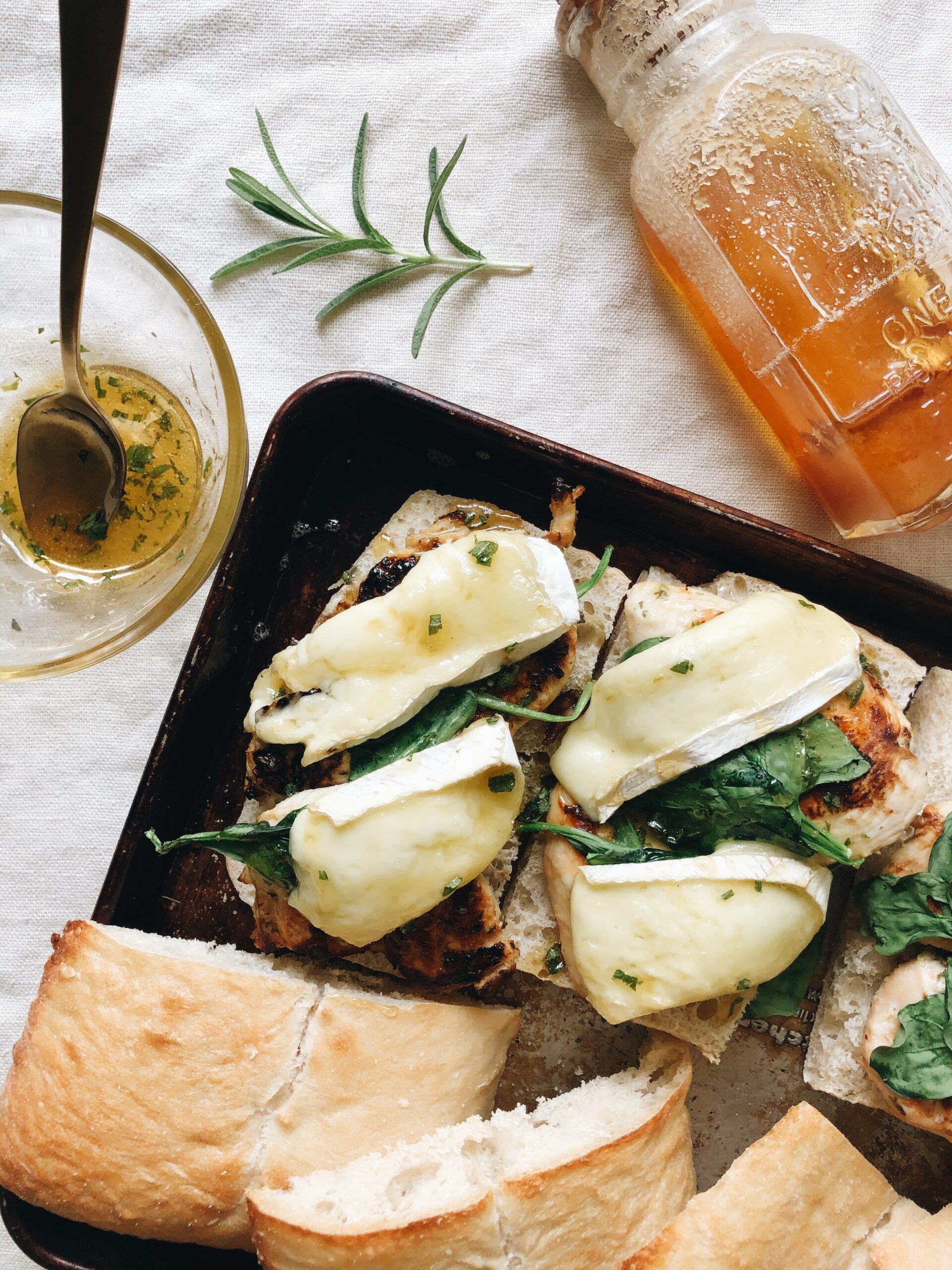 The Ciabatta will get a nice crispy texture on the outside, while the insides stay soft and billowy. And the brie might want to slide off because physics, but just take your little fork and it scoot it right back up on top of the spinach like a good cheese. 'Atta cheese.
…what?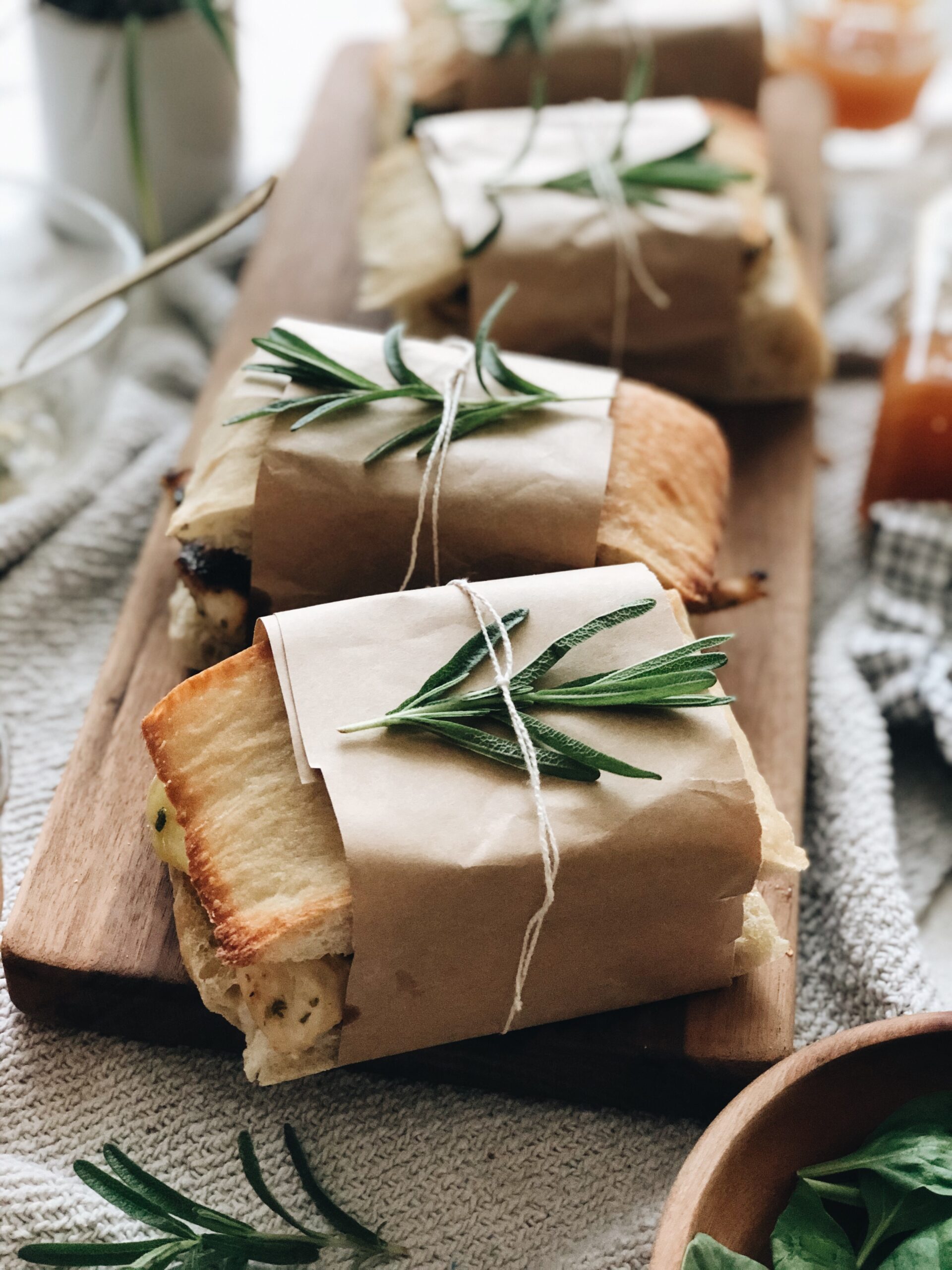 And then if you're obnoxious like me, you can wrap them in dainty parchment or butcher paper, tie with twine and stick a little rosemary garnish in with each sandwich. LOOK IT'S PICNIC CHIC, OKAY?
On top of that, it's just a lovely but casual approach to your next Sunday supper or weeknight dinner. A little Frenchish, if I say so myself. And you can let the sams cool before you transport. Everything holds up well because once it cools, it stays put. See how I take care of you?
These are outright divine, with very little work!
Maketh!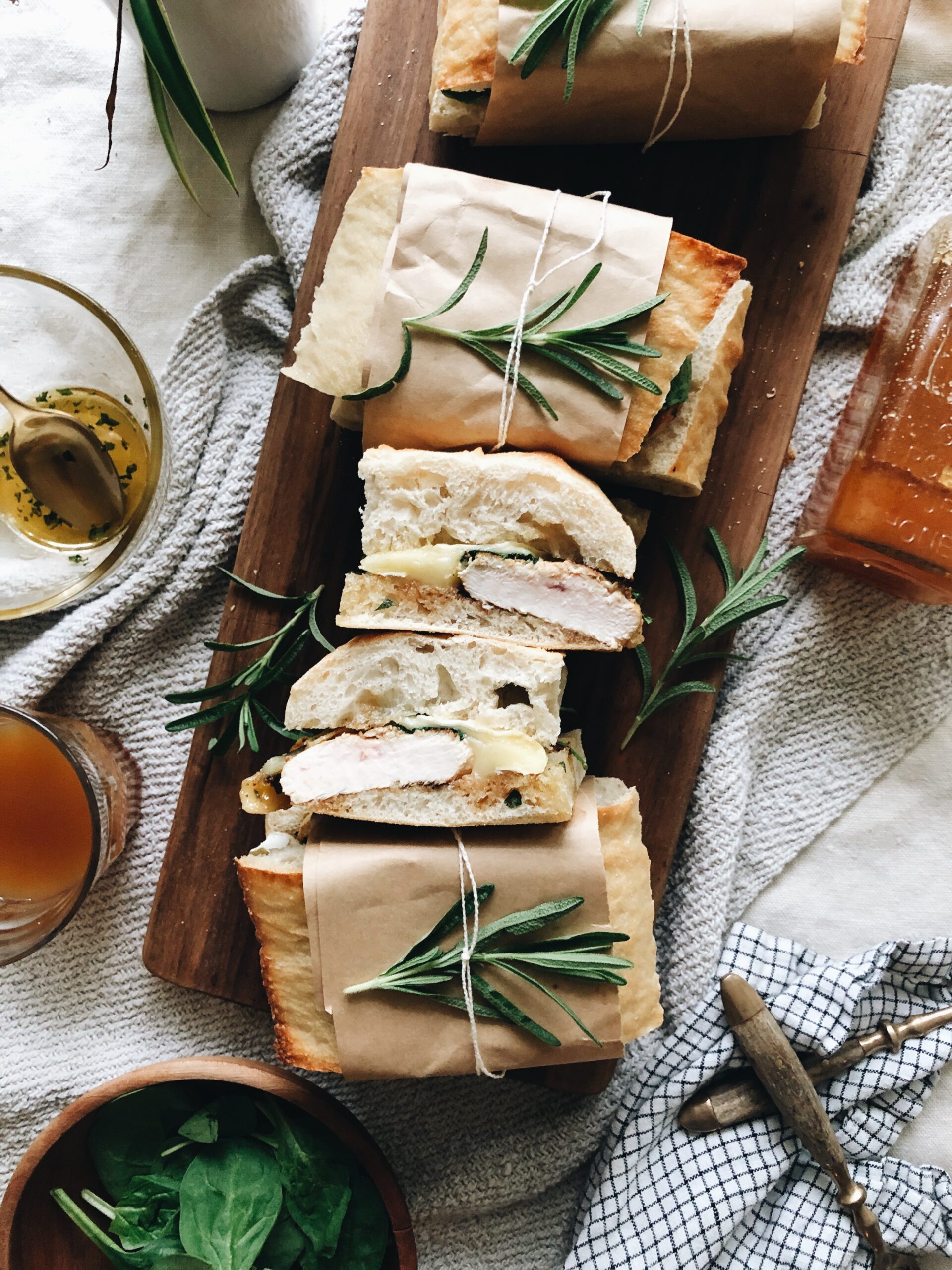 Timothée Chalamet sold separately.
Rosemary Chicken Sandwiches with Spinach and Brie
Ingredients
2 pounds chicken breasts, butterflied and cut in half widthwise
5 cloves garlic, grated or minced
1 lemon
2 Tbs. finely chopped Rosemary, divided
5 Tbs. extra-virgin olive oil
Coarse salt
3 - 4 Tbs. honey
1 wedge of Brie cheese (1/2 pound), sliced
1 (14 oz) Ciabatta loaf, sliced (making four sandwiches)
Instructions
In a large bowl, combine the chicken, garlic, lemon juice, 1 Tbs. Rosemary, oil and a large pinch of coarse salt. Cover and marinate all day if you can. Bring the chicken to room temp for about an hour before you cook.
Bring a large skillet to a medium high heat. Tong the chicken out of the marinade and place it right in the pan. (No need to add oil first, the marinade has plenty.) Sear on both sides for five minutes. You should get some nice browning all over. Let the chicken rest in a bowl for a few minutes.
Now preheat your oven to 400.
In a smaller bowl combine the honey and remaining Tbs. chopped Rosemary. Lightly spread a little over the bottom halves of the sliced ciabatta loaf. Layer with chicken, spinach, and sliced brie.
Place everything (like in the photo) on a rimmed baking sheet, the top halves to the side so that the Brie can melt. Bake for 10 minutes, until that cheese is melted and starting to ooze.
Drizzle the rest of the Rosemary honey sauce over the tops of the melted cheese. Place the top halves of the Ciabatta on each sandwich, wrap and go!
Or just serve them for dinner like a normal person.
Makes 4 sandwiches! (You might have chicken leftover, which is always a good thing.)
7.8.1.2
444
https://bevcooks.com/2020/08/rosemary-chicken-sandwiches-with-spinach-and-brie/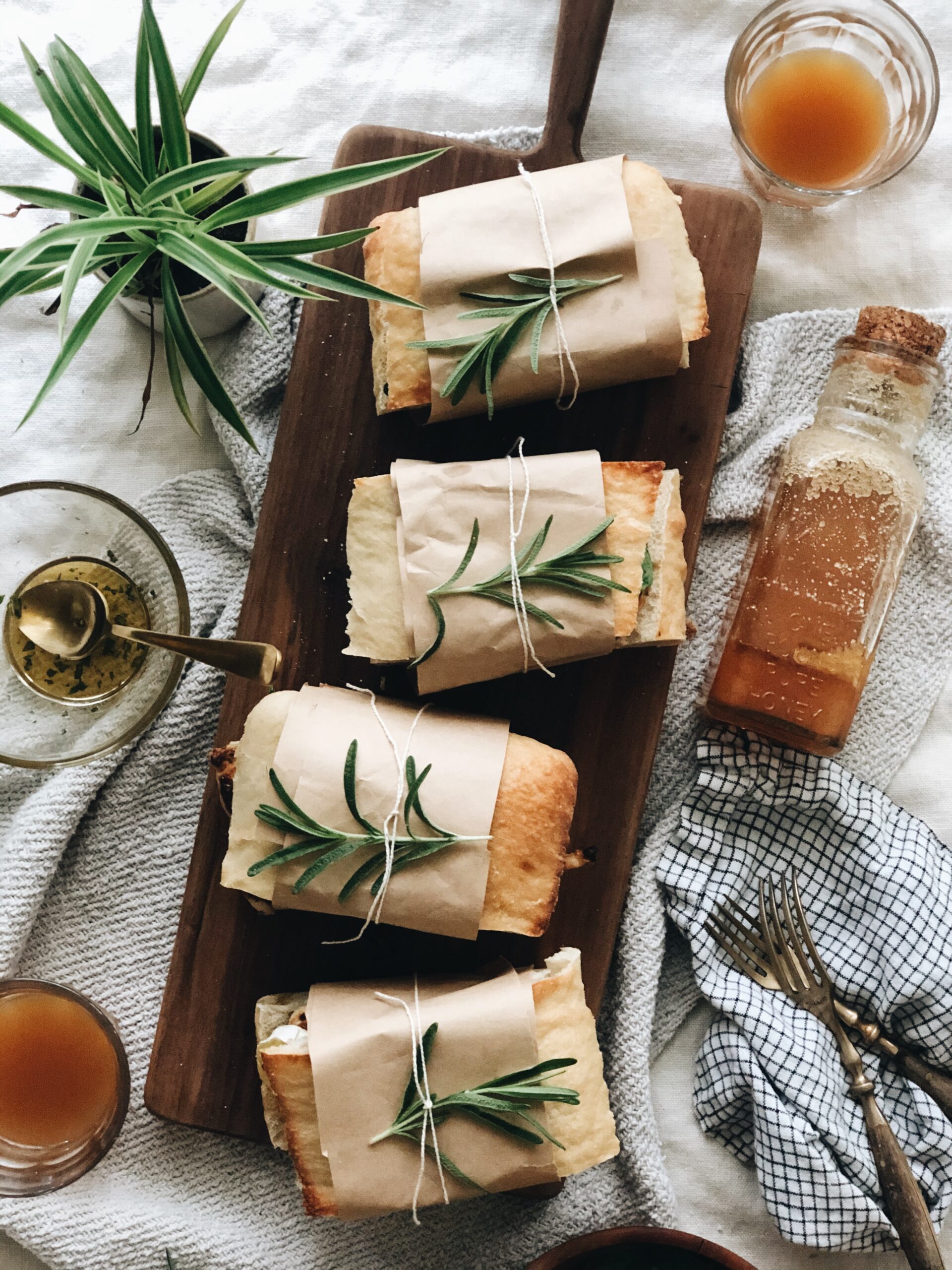 See you at the park. I'll bring the Sancerre.