Well hello there, you pretty thang.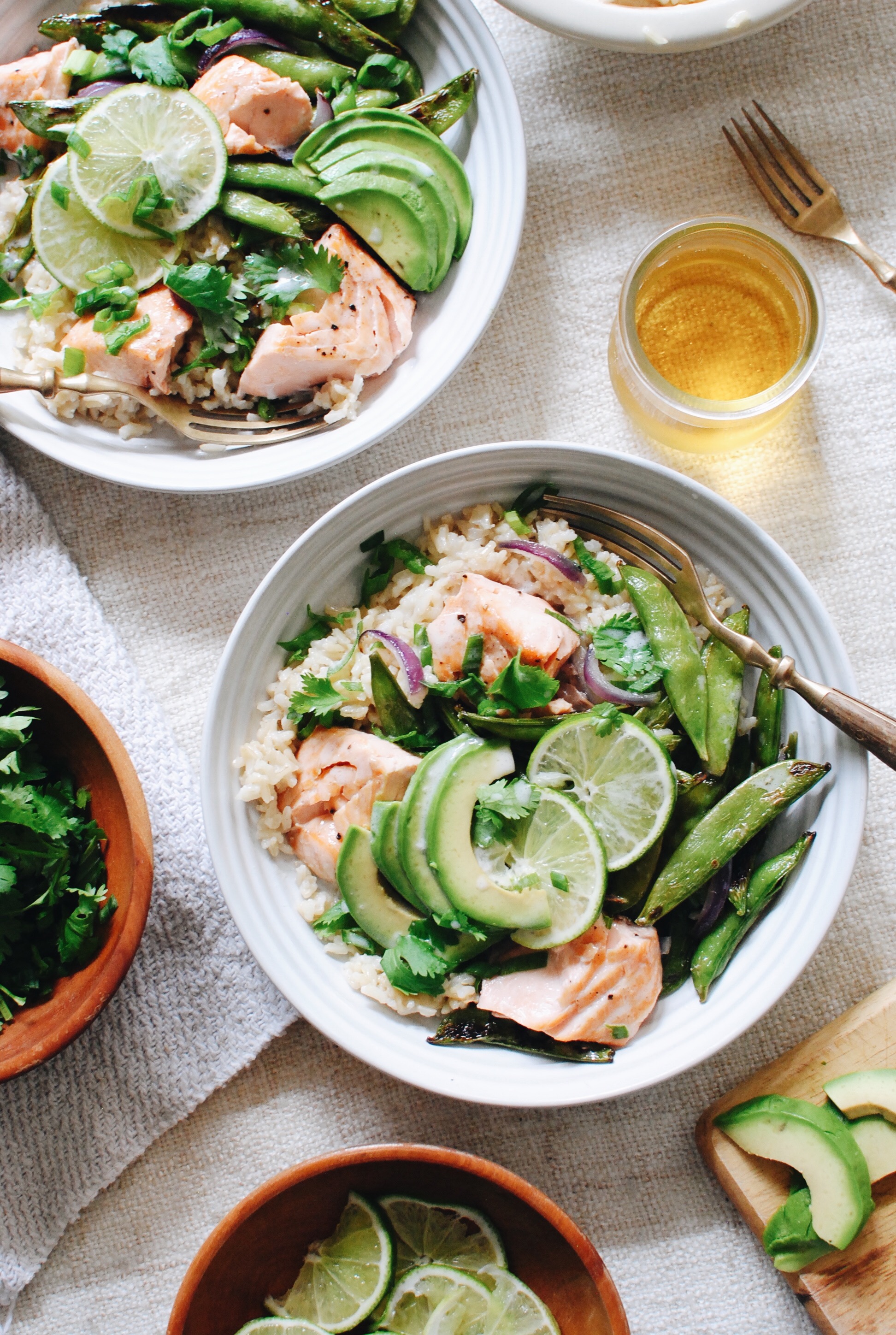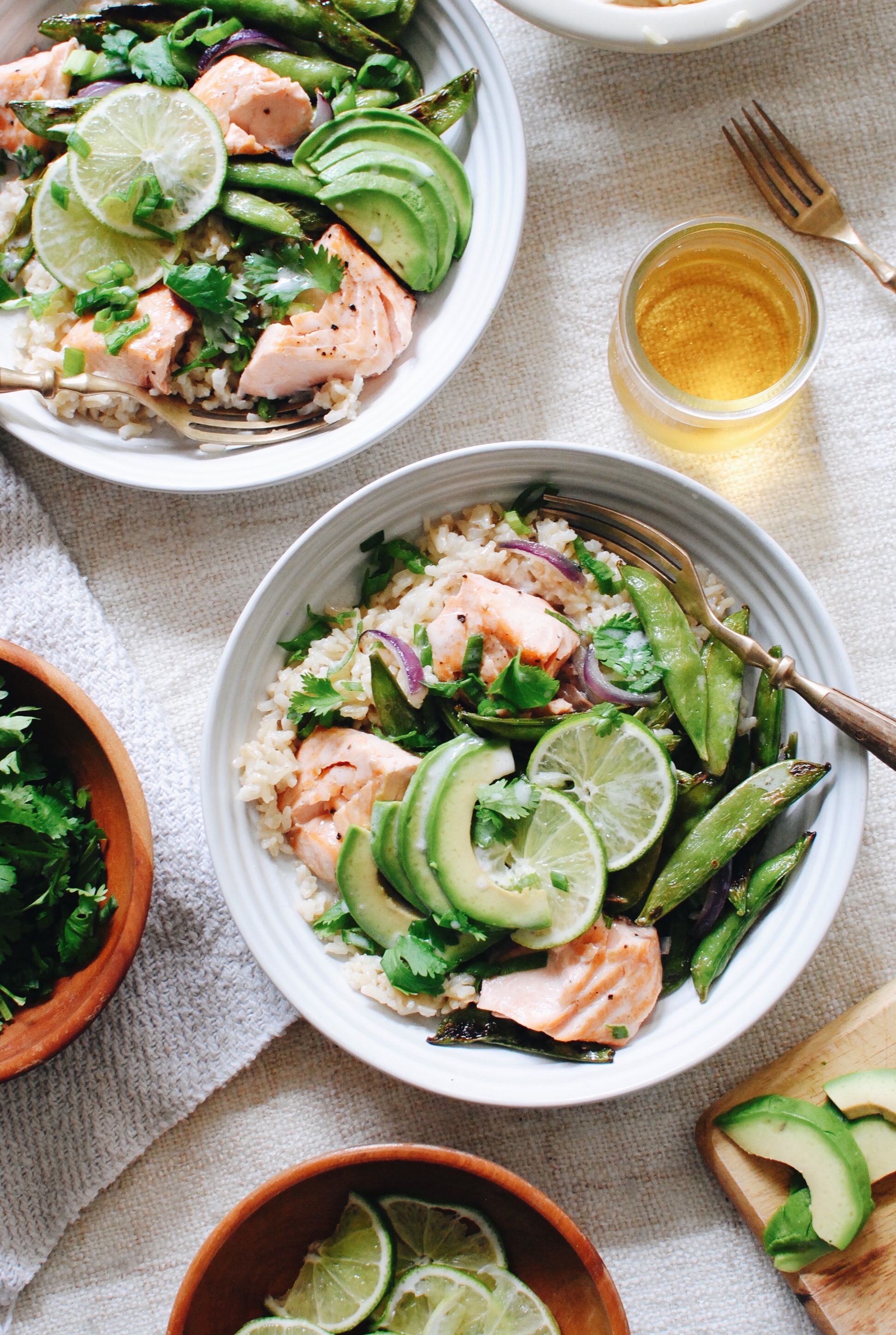 Don't you freaking love BOWLS? Like BOWLS of anything. Bowls of food anything. A bowl of all the food piled on top of each other. Just give me all the food bowls. The grain bowls. The rice bowls. The soup bowls. The veggie bowls. All the bowls. This is a bowl. I made you a bowl. Sick of me saying bowl?
Now I'm not sure what the word bowl even means or is supposed to sound like anymore. BAWEL? Nope.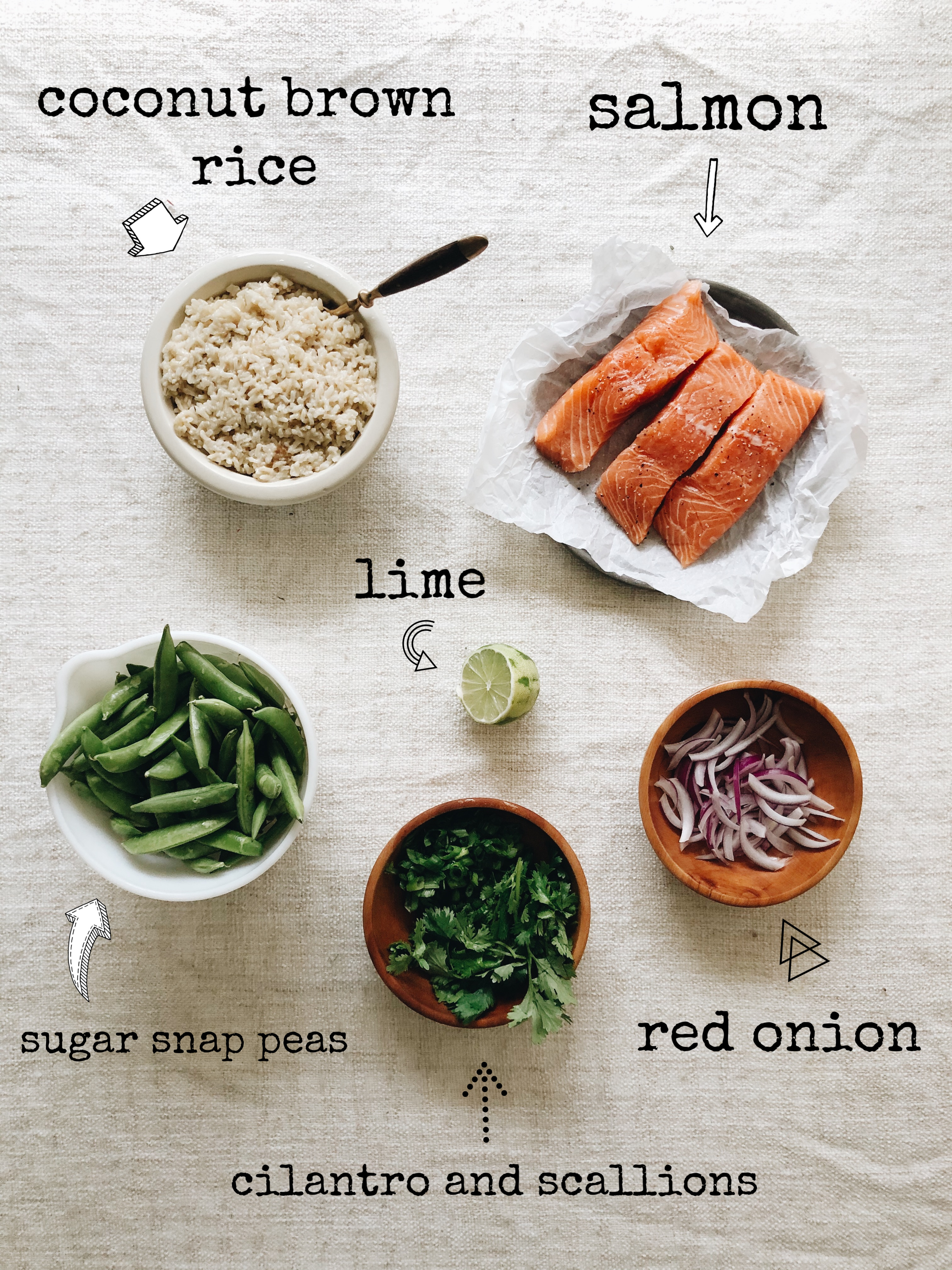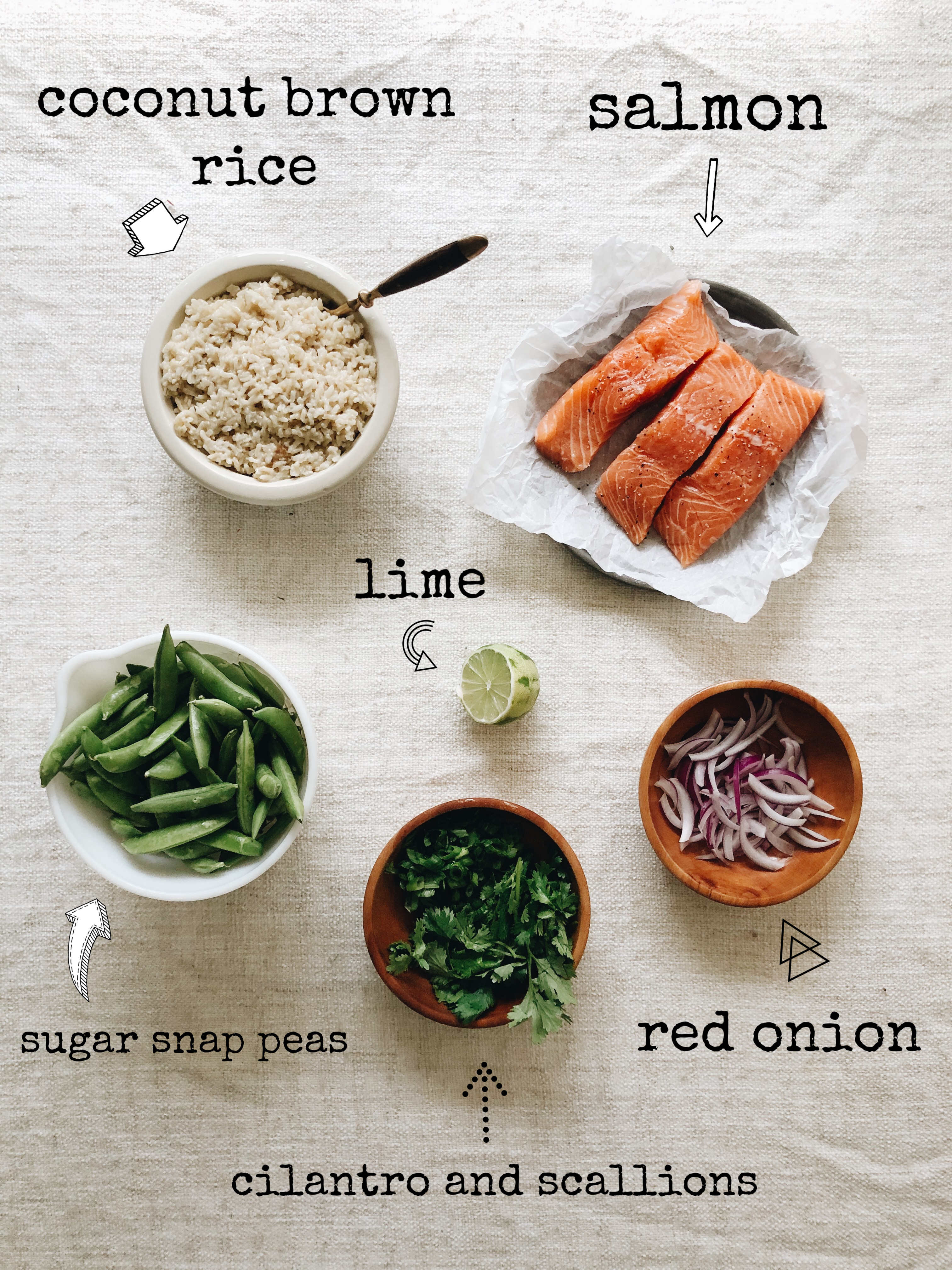 And look how simple! That rice, though. Let me talk you through it. Because it's completely ruh-deec. It's brown rice + a small diced shallot + coconut milk + a lime. The lime comes in at the end, after the rice has been bubbled to submission with the coconut milk in a rice cooker. And your house and life will smell so divine you'll wonder how you ever got there. And then you'll remember, "Oh right, this is that Bev Cooks recipe."
Never mind.
p.s. shallot cooked with your rice – the only way. do it once and you'll never not cook shallot with your rice again. I speaketh the trutheth.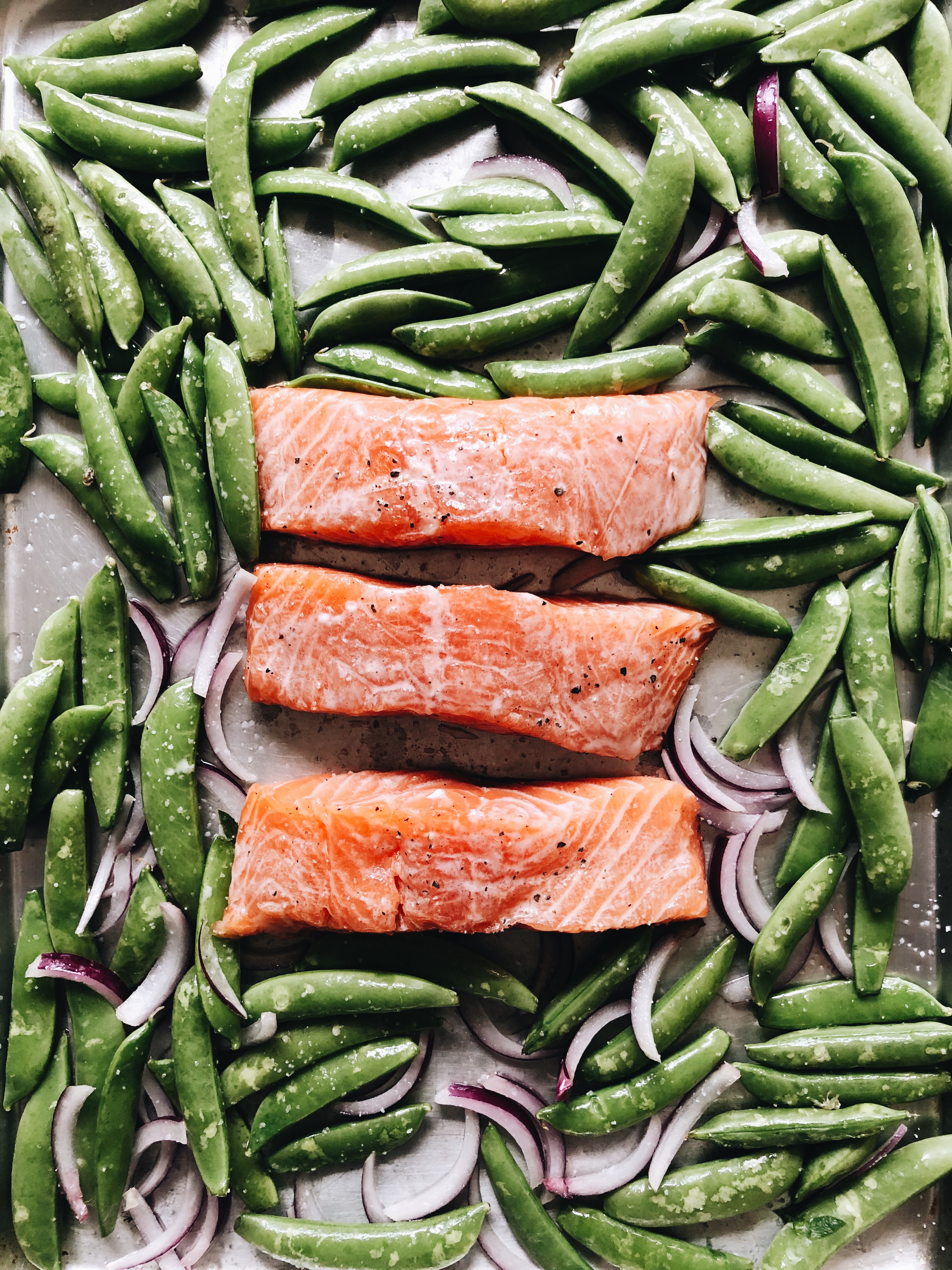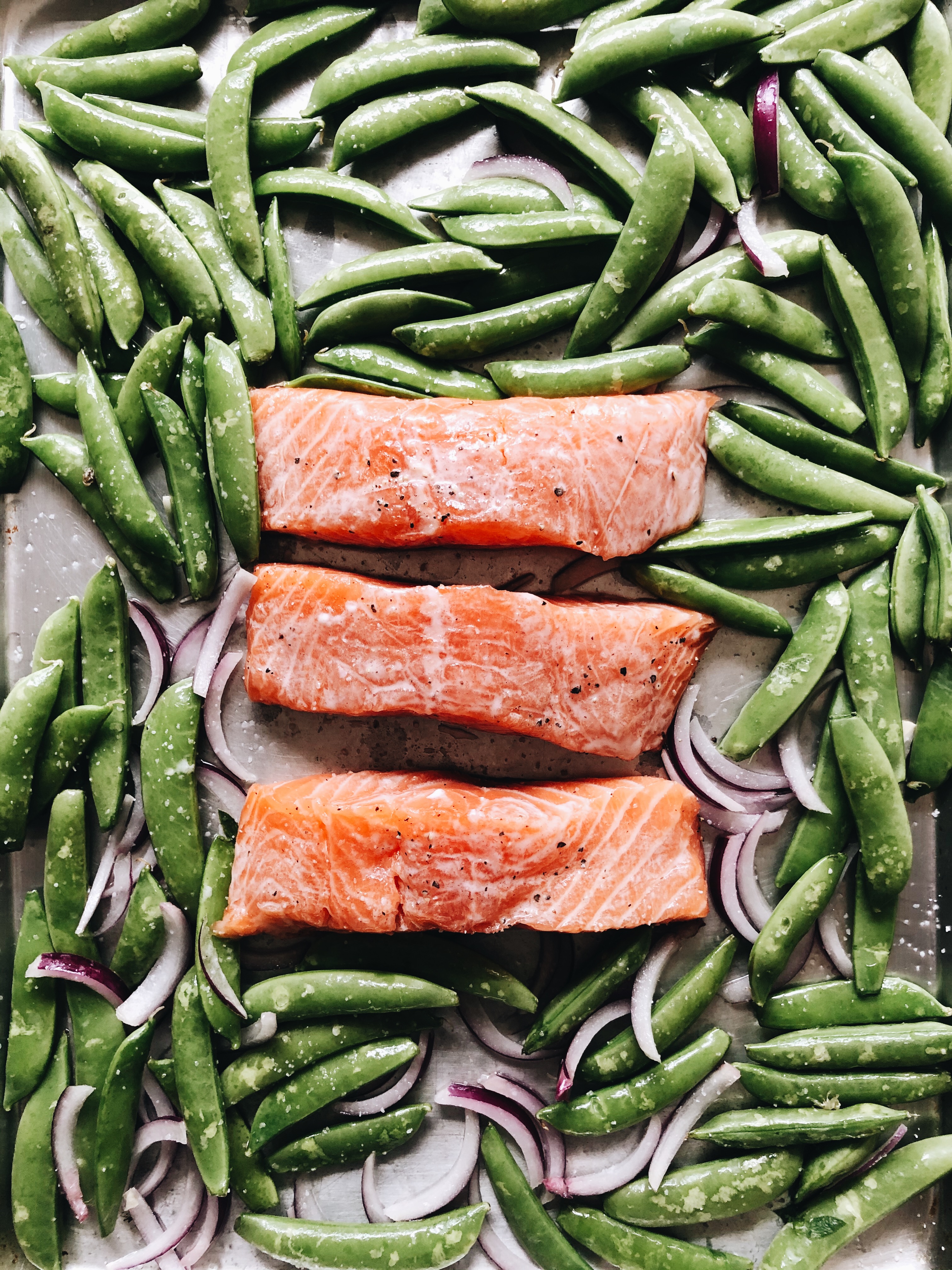 Not only is this a bowl recipe, it's a SHEET PAN recipe. Two very wonderful things in life. The rice simmers for a while on its own. Hands off for you, dude. And then the sheet pan comes together in under 10 minutes because we be BRAWLIN'.
Broiling. It's broiling, for those trying to piece together the odd and befuddling workings of my brain.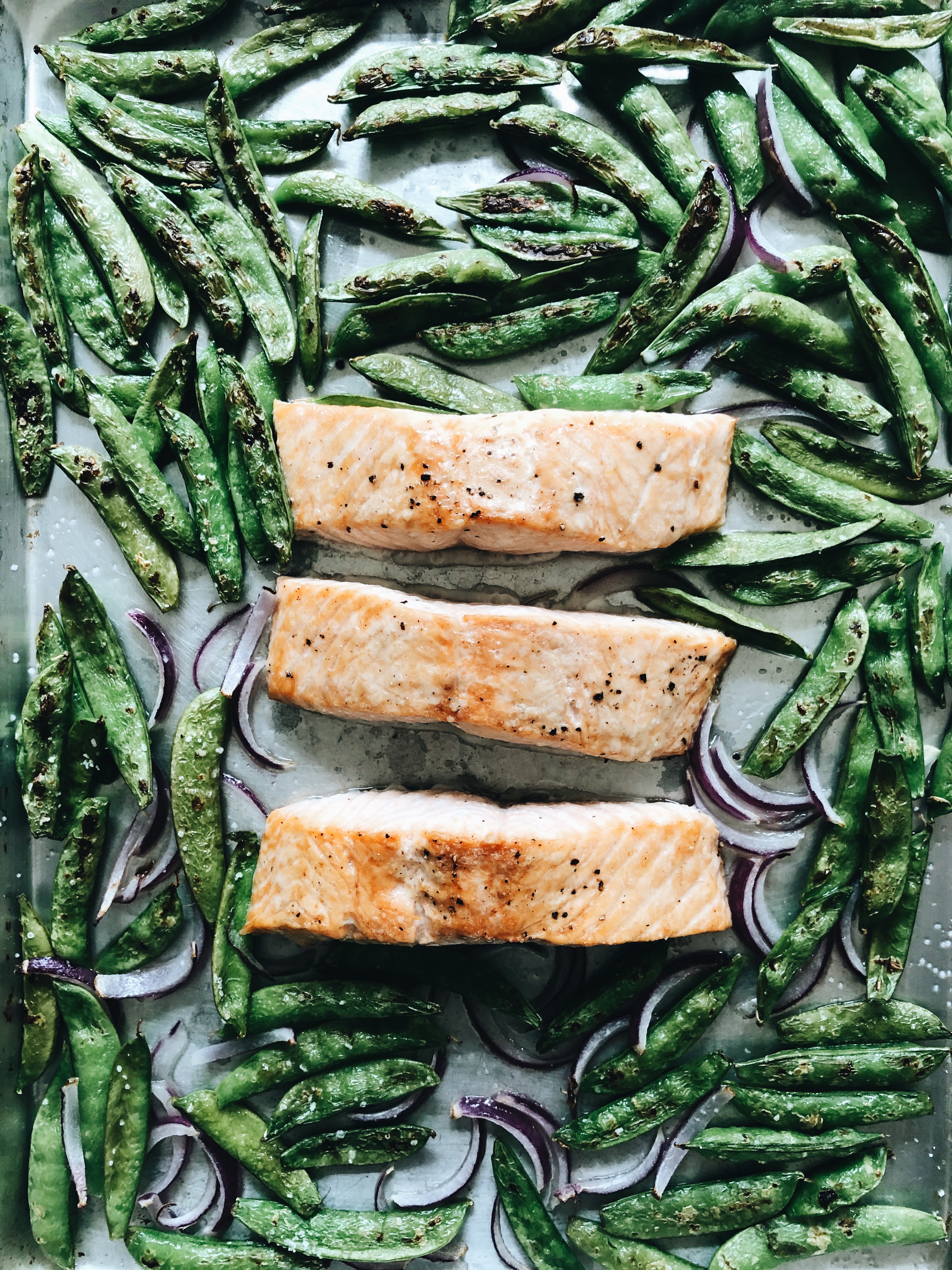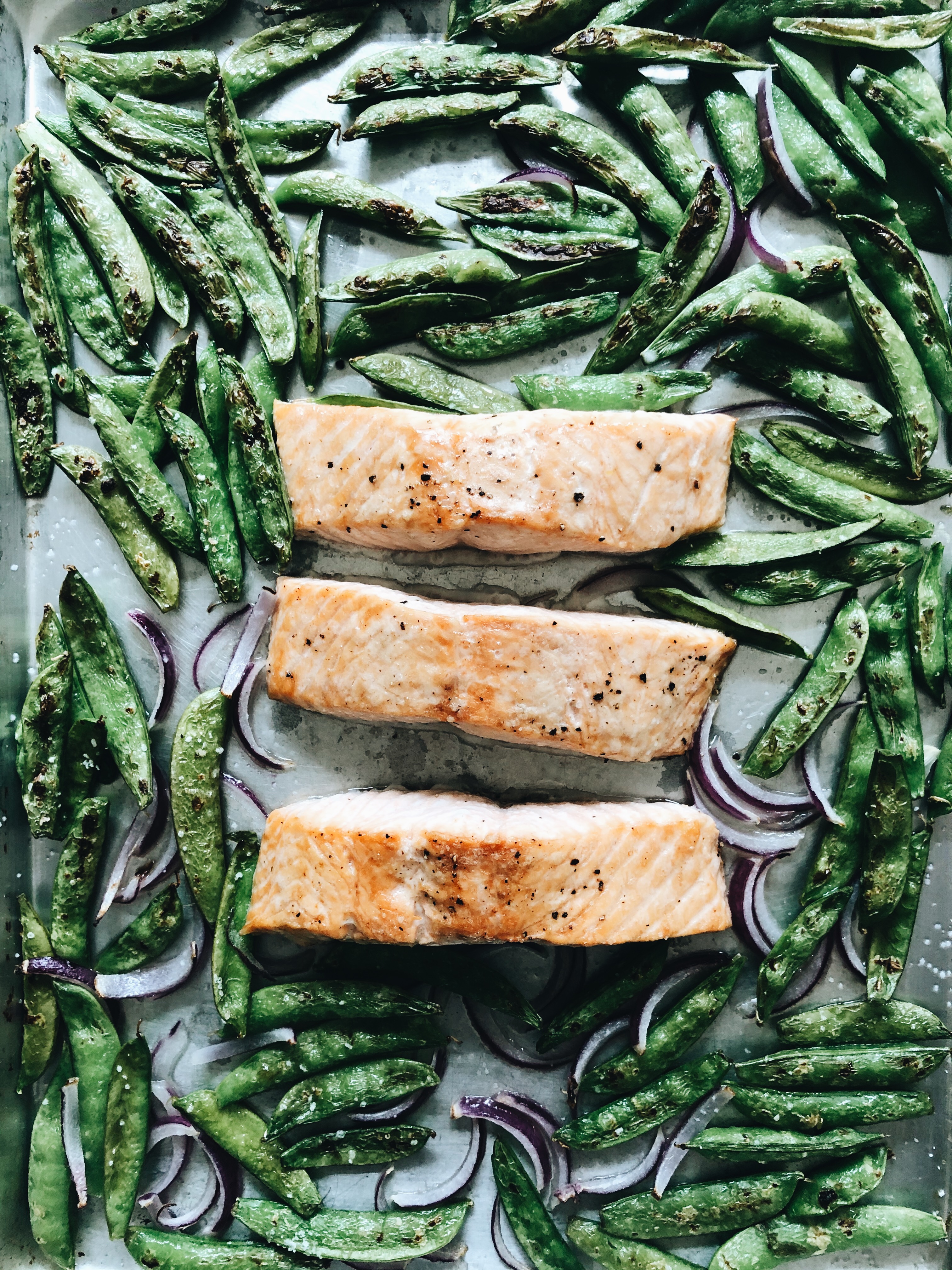 Seven minutes later! Boom. That salmon is PUH-fect. And actually, at this point, you can tong off the salmon (We're starting a band called Tong Off the Salmon) and place it to the side if you want to pop the tray back in for an extra couple of minutes for the onions and sugar snaps if you want. This is your life.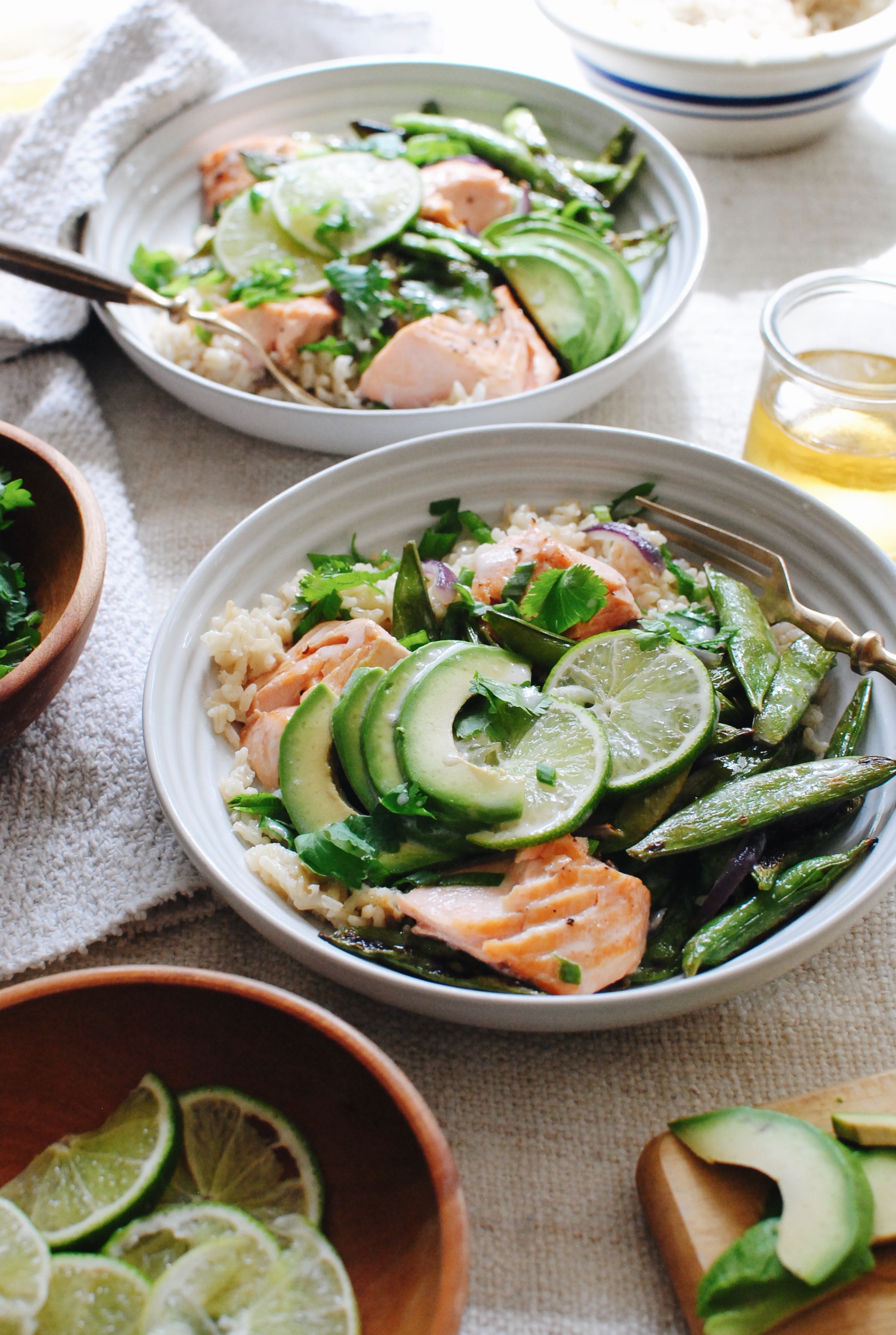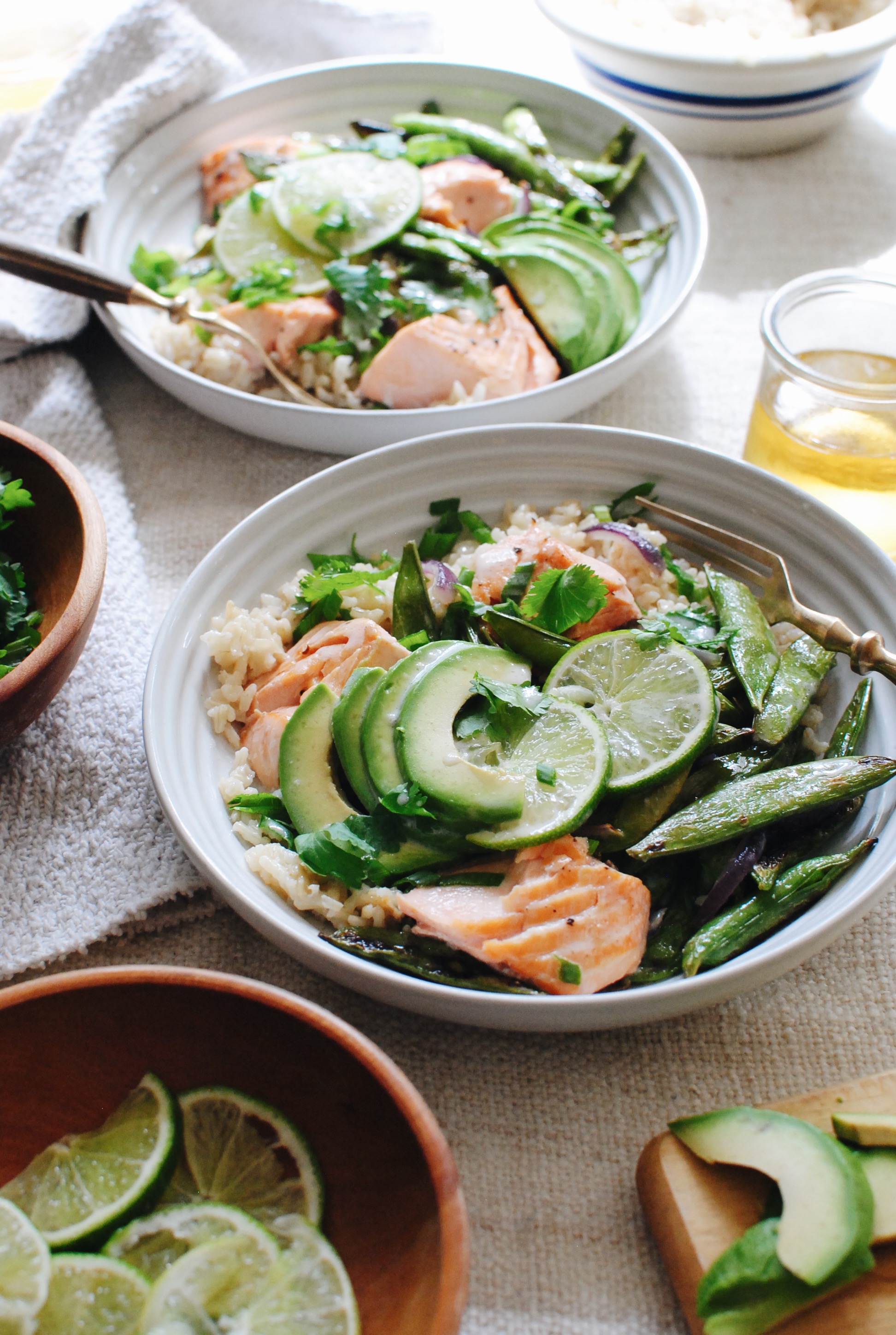 Honey child, please.
And honestly, when you flake that tender salmon over the suuuucculent coconut rice and scatter the almost-crispy sugar snaps and roasted onions over it, and then a nicely fanned out avocado with lime slices, cilantro and scallions? Stop it. Just stop it. Never stop it.
But here's where we take it to 11.
You've got a little leftover coconut milk! (yeah you'll see it in the actual recipe) Simmer that mess with lime juice and a pinch of salt, then drizzle it over the final dish right before serving. It's not going to soup it out at all, but just adds that tiny bit of velvety coconut right at the end. Gives it moisture. (sorry)
Shoot – add some toasted coconut if y'awnt!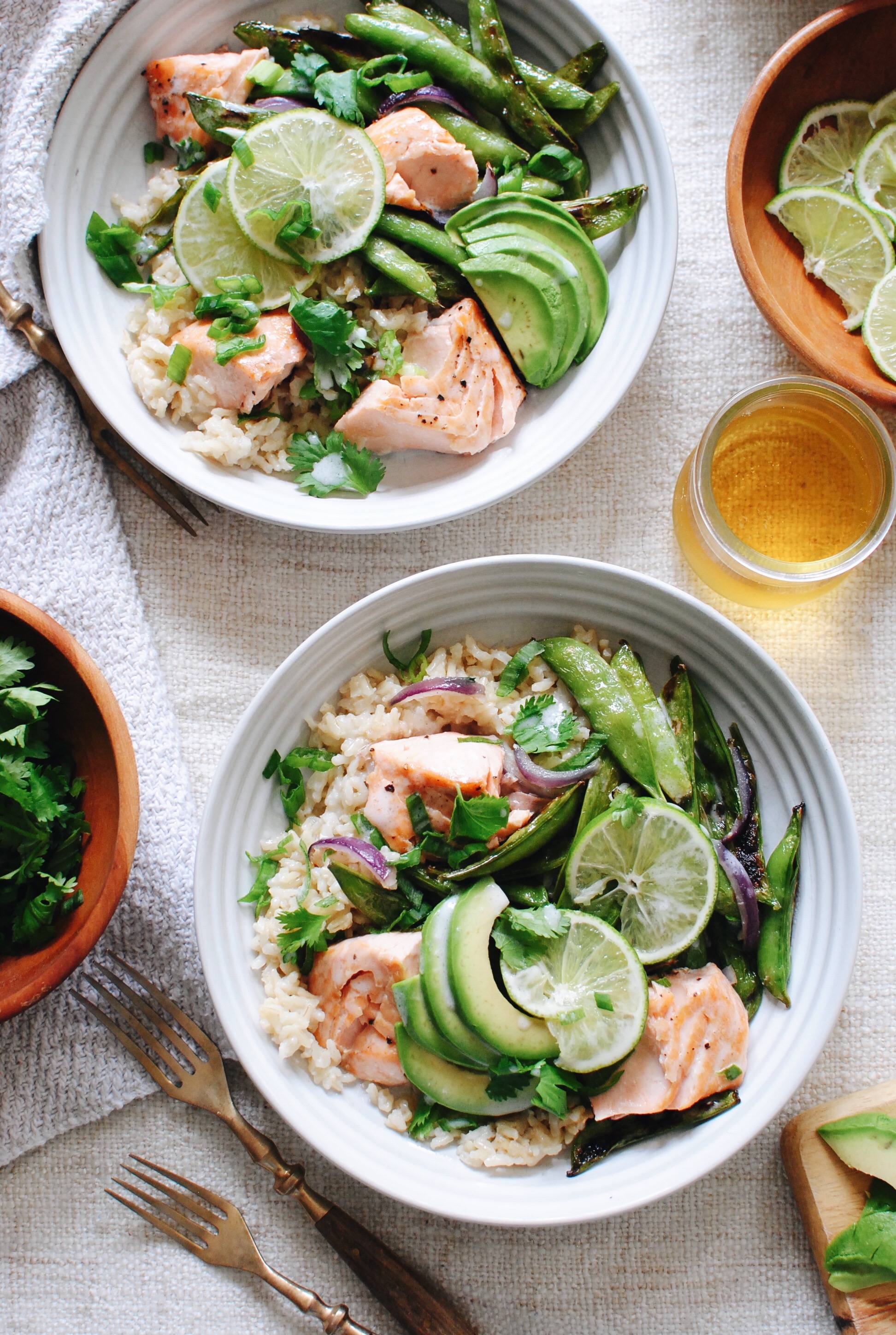 I think weeknight meals need more coconut in them, don't you?
And broiled salmon.
And roasted sugar snaps and onions.
And shallots in their rice.
And MORE BOWLS, GAH.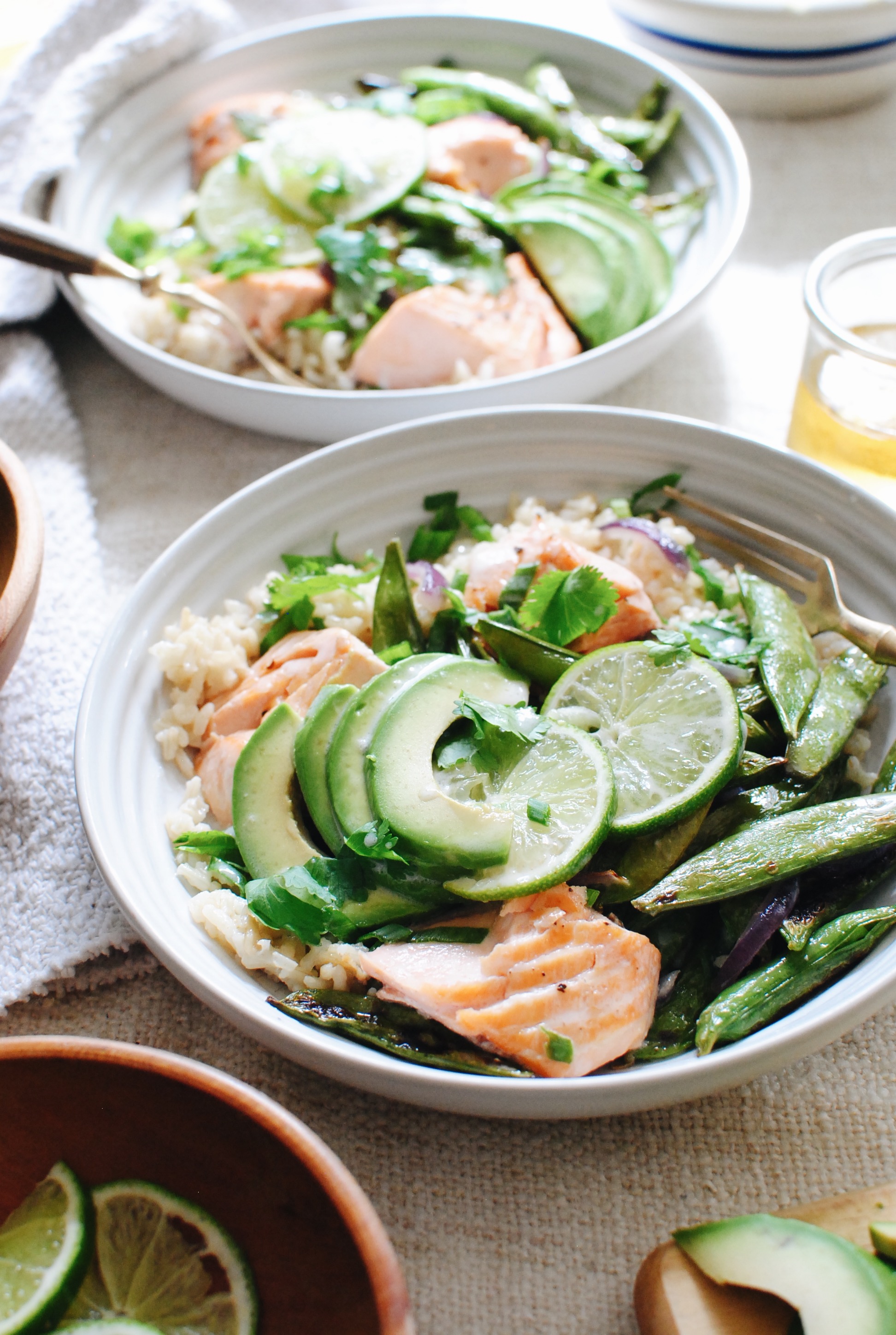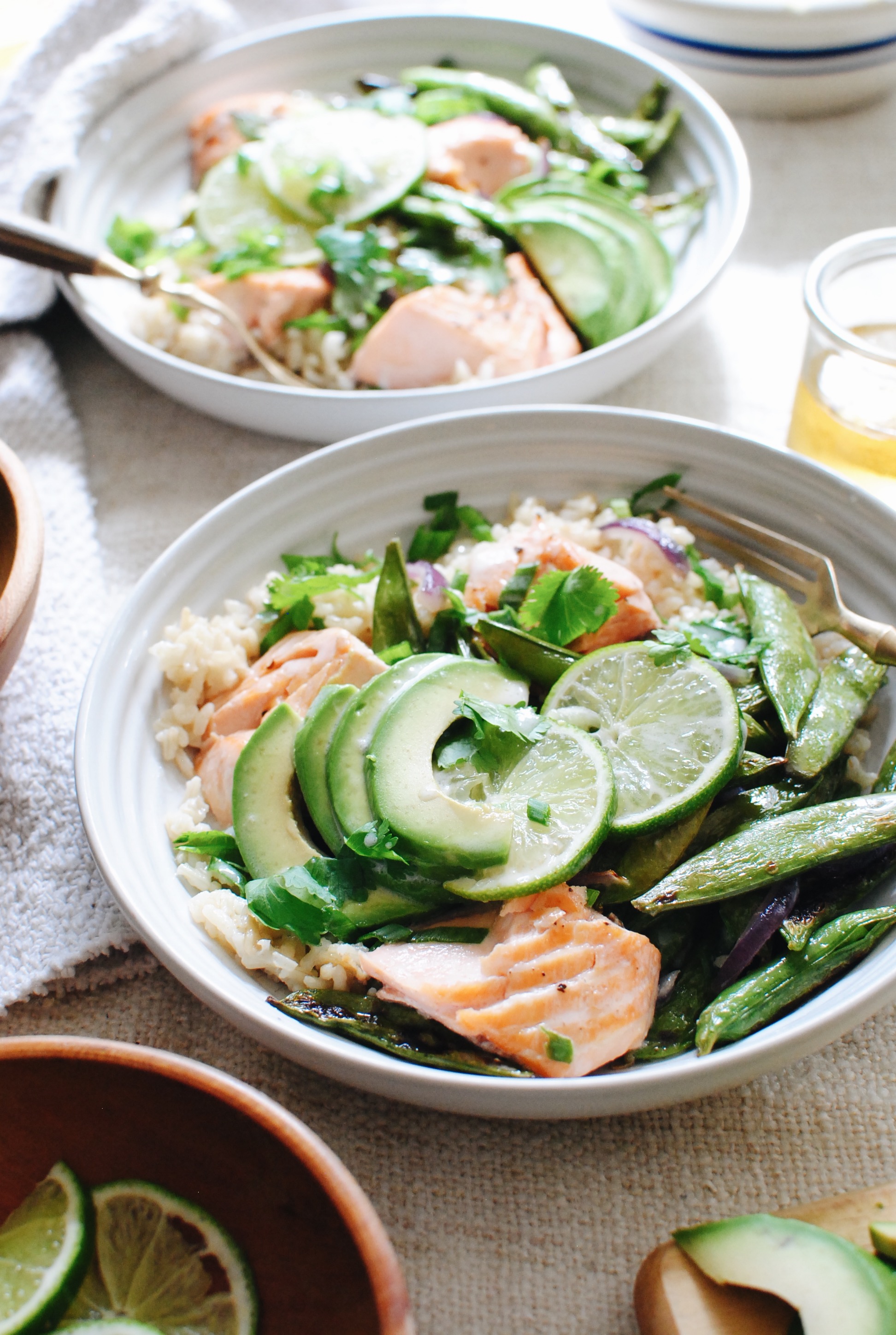 Hallelujah.
Coconut Salmon Rice Bowls with Sugar Snap Peas
Ingredients
1 cup brown rice
2 (13 oz) cans of coconut milk
1 shallot, minced
2 limes (one sliced for garnish)
2 Tbs. Extra virgin olive oil (warmed coconut oil works here, too)
3-4 salmon fillets (depending on how many are eating)
1 (15 oz) bag sugar snap peas
1/3 of a medium red onion, sliced on the thin side
1 avocado, sliced
2 scallions, sliced
1/2 cup cilantro leaves
Coarse salt and freshly ground pepper
Instructions
In a rice cooker, combine the rice, the minced shallot and 2 1/4 cups of coconut milk. You'll have leftover coconut milk, so we'll simmer it in a bit!. Season with a good pinch of salt and cook on the brown rice setting. Once it beeps, fluff with a fork and stir in the zest of a lime along with the juice from half of it. Rice is done!
Preheat your oven to broil.
On a large rimmed baking sheet, scatter the sugar snap peas with the red onion slices. Arrange the salmon fillets in the middle of the veggies, and season the food well with coarse salt and a few grinds of pepper. Drizzle the veggies with a Tbs. of extra-virgin olive oil and toss with your fingers. Brush the salmon lightly with coconut milk. Broil on the top rack for 7 minutes. If you want the onions and sugar snaps to go a little longer, remove the salmon with tongs and place them on a plate while you broil the veggies another two minutes. This is really to your liking. You just want some good browning and shriveling on those veggies.
In the meantime, simmer the last of the coconut milk in a small pan with a pinch of salt and the juice from the other half of the lime.
Spoon the coconut rice evenly among dinner bowls, and top with the roasted veggies, flaked salmon, avocado slices, cilantro leaves, diced scallions and lime slices. Drizzle the warm coconut milk over the bowls and serve immediately!
Serves 4.
7.8.1.2
382
https://bevcooks.com/2019/10/coconut-salmon-rice-bowls-with-sugar-snap-peas/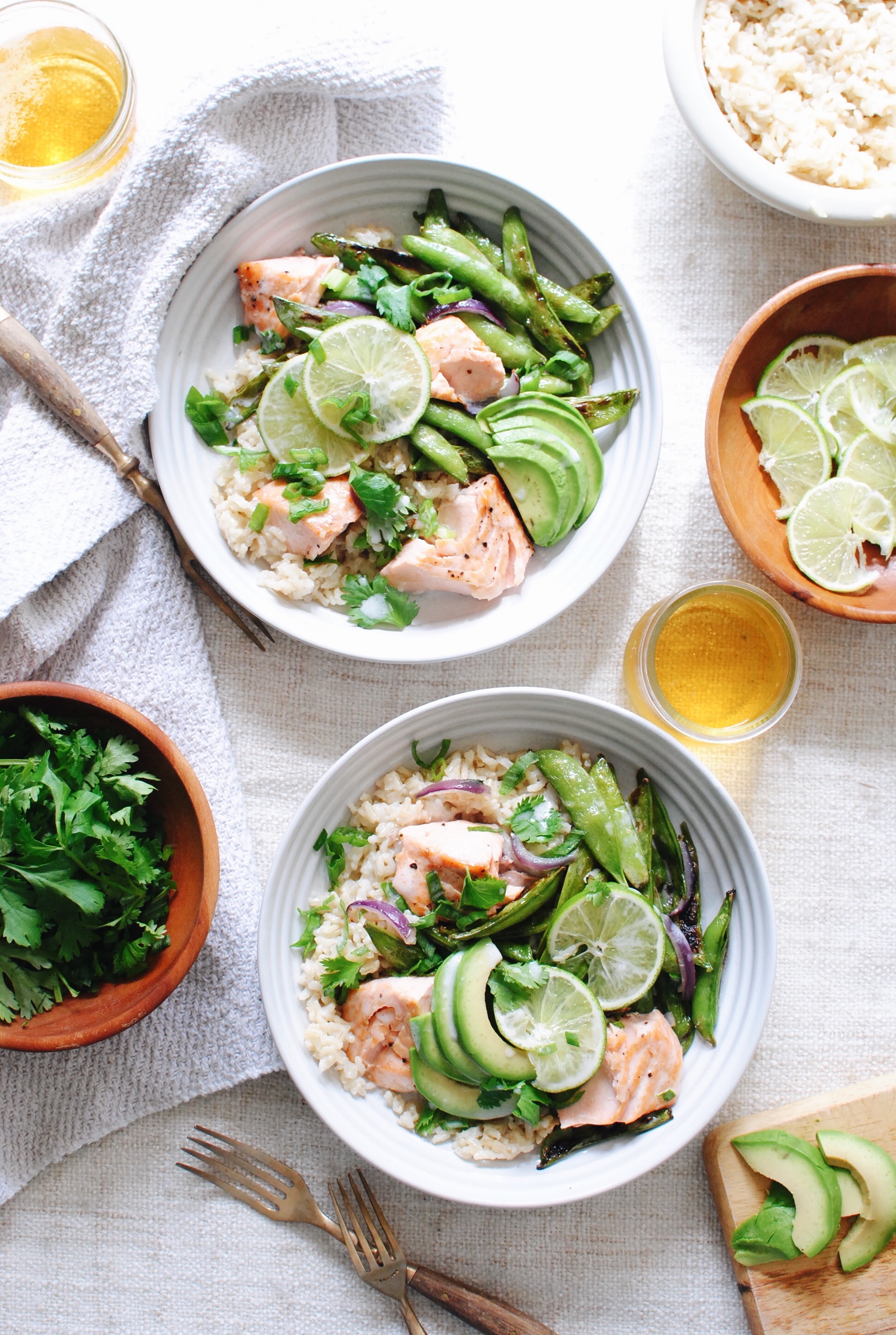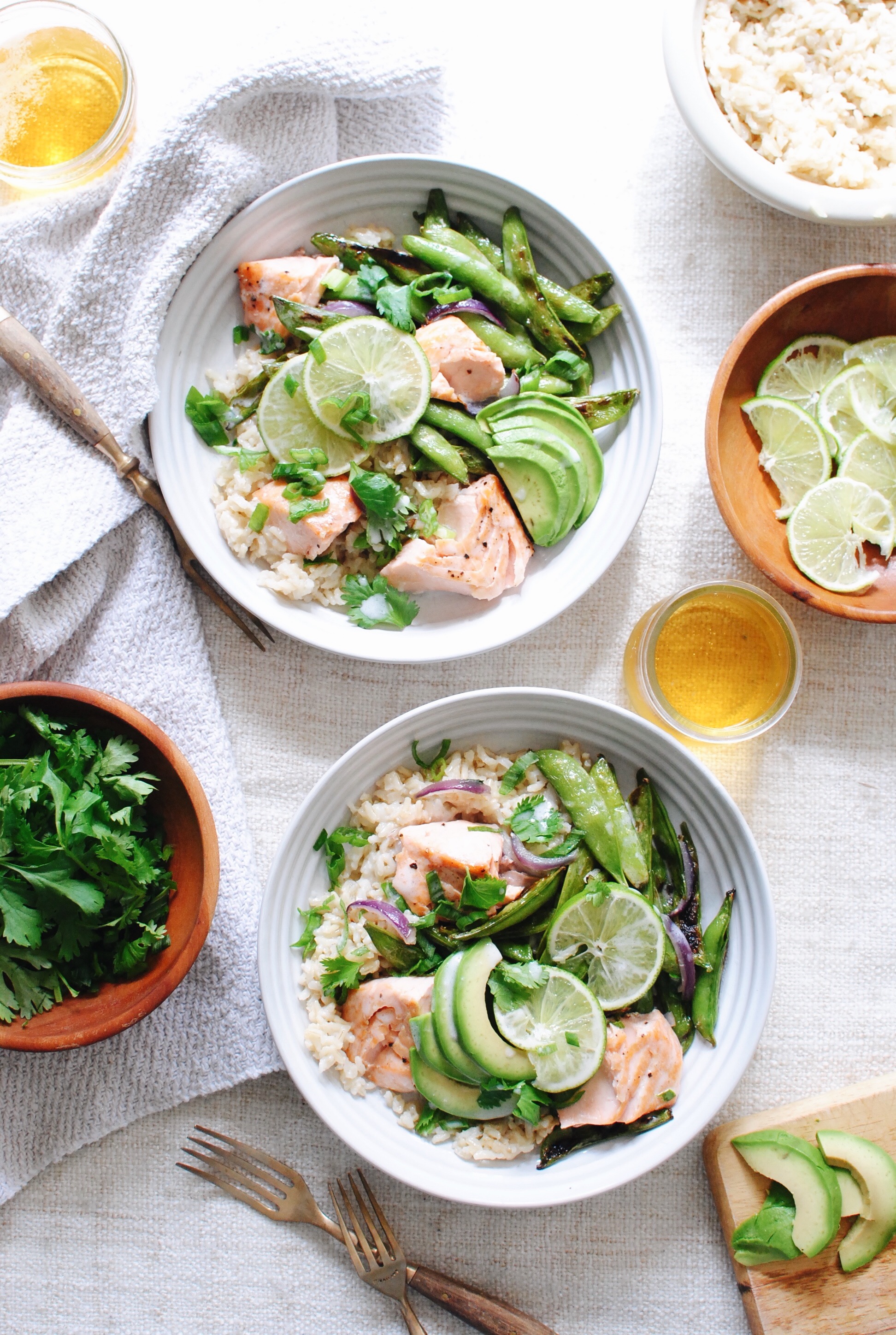 Mama did say knock you out, ya know.