Honestly, is it any huge shock that I'm already giving you kale and sausage? Right.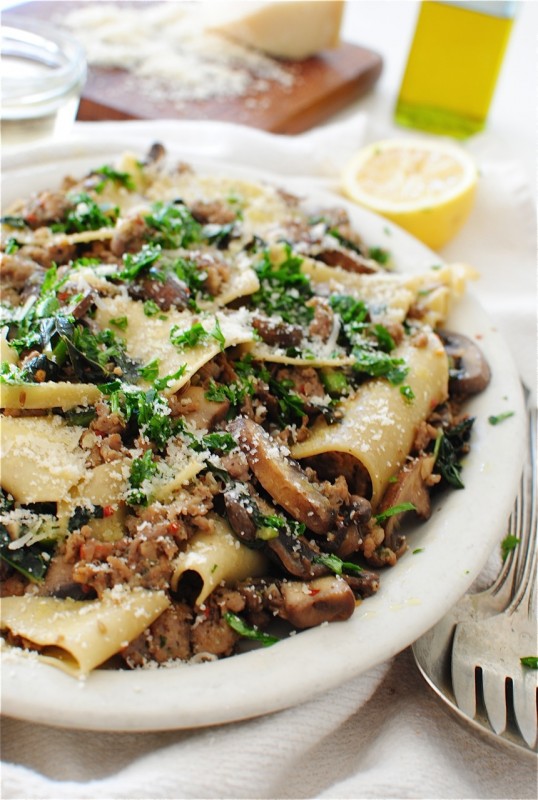 I mean glory be, this is pretty much the fuel to my soul. (besides salt on chocolateeeeohhhdeaaarrrr.) I eat this in soups, on bread, in regular pasta, and now . . . broken pasta! Broken lasagna sheets to be exact. Wait, is sheets the right word? All of a sudden it sounds strange. Lasagna noodles? Lasagna blankets? Lasagna duvet? Lasagna curtains? Anyway. It's broken!
Just like my brain, apparently.
The inspiration for this actually comes from a cookbook I got for Christmas, Sunday Suppers. Dear GASH, it's a gorgeous book. Much like Kinfolk in its muted, simple, communal, and almost farmhouse approach to life and cooking, it showcases bare-boned seasonal recipes. But like, with the prettiest photos you'll ever look at, ever.
In their version, they made fresh, rustic, hand-cut pasta pieces. But being at home with two hyperactive weirdo one-year olds, lasagna curtains it was.
Theirs also featured a stunning array of gourmet roasted mushrooms, which is great! But you know me. Kaleandsausageplease.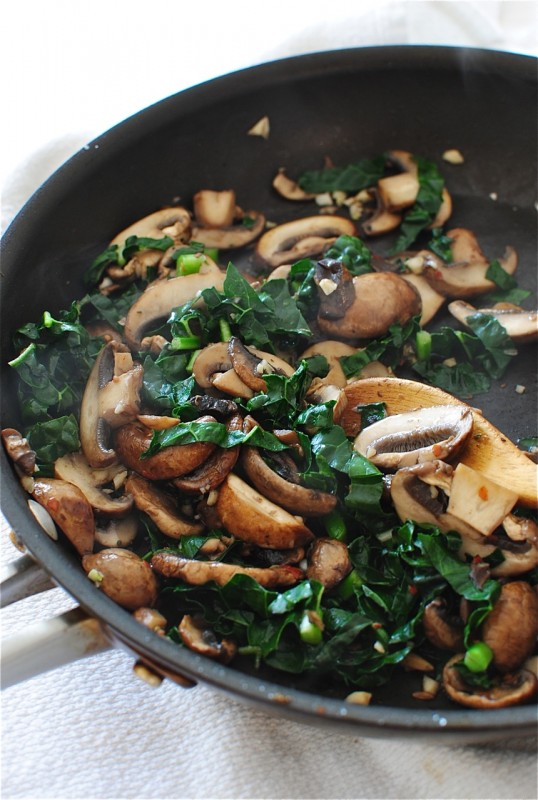 Another thing! And this isn't vital to the success of this dish, but it IS however vital to your lifelong happiness and well-being. You know on standing cheese graters, that weird pokey side that always scratches your hand and sends you into violent cursing fits? Yeah, that side. Well, I was wanting more of a powdery parm to sprinkle on top of the final dish, so I used that weird pokey side! It's a little hard at first, but once you get the right grip on the cheese, it's smooth sailing. Smooth grating.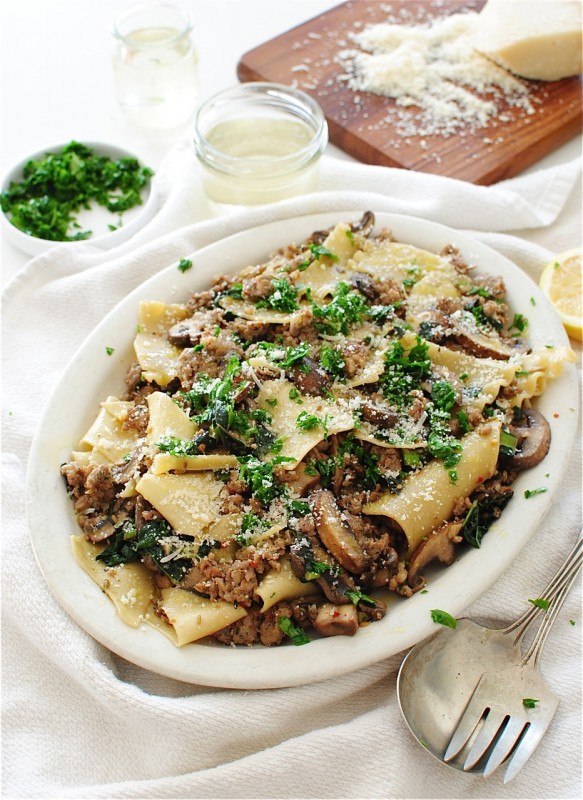 Also, the sauce? Butter, lemon juice and white wine. Till death do us part.
This is gall-derned scrumptious for your face. Perfect weeknight meal. Easy to pull together, and then there's that open bottle of white wine, ya know.
What, IT WAS FOR THE RECIPE.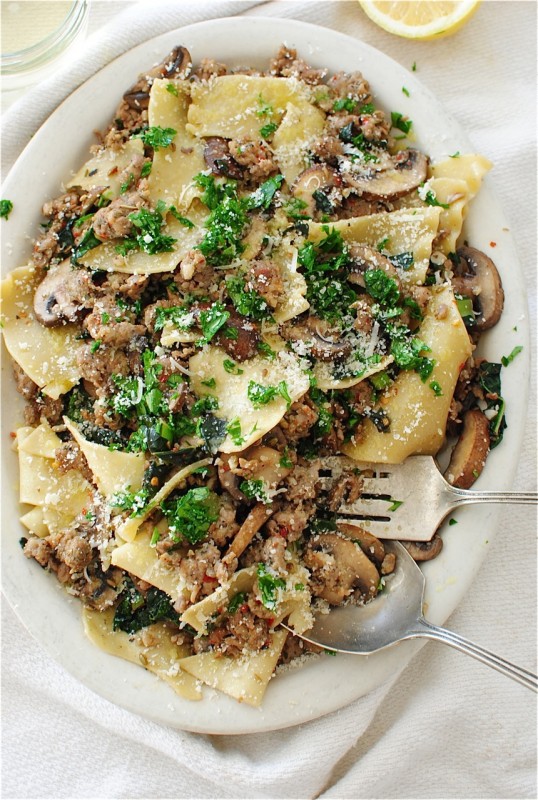 Right?
Broken Pasta with Kale, Mushrooms and Sausage:
What it took for 4:
* 8 lasagna noodles, randomly broken into medium-sized pieces (I used a mix of curly and flat)
* 3 Italian sausage links, casings removed
* 2 large kale leaves, cut into thin ribbons
* 6 oz baby bella mushrooms (or any gourmet kinds that you love!), sliced
* 5 cloves garlic, minced
* 3 Tbs. butter
* 1/2 cup dry white wine (like sauv blanc)
* 1 lemon, cut in half
* pinch of coarse salt
Bring a large pot of salted water to a boil.
Break the sausage into chunks and brown over medium-high heat in a medium skillet. Remove from the pan and set aside.
Back in the pan, add the mushrooms. Sauté for about 4 minutes, until they begin to soften and darken. Add a small pinch of salt, the kale and garlic. Sauté another minute, being careful not to burn the garlic. Transfer the veggies to the sausage.
Baaack in the pan, add the butter to melt. Once foamy, add the wine and lemon juice (half the lemon). Whisk for about 3 minutes over a medium-high heat. Let it bubble and simmer for just a tad. Then add the veggies and sausage back to the sauce in the pan. Toss it all together.
In the meantime, boil the pasta noodles until al dente. I will say, if you're using flat and curly, add the curly first, as it will take longer to boil. Once al dente, drain and toss them into the sausage mix, right in the pan!
Transfer to a large serving platter, garnish with freshly grated parmesan and minced parsley! And the remaining lemon wedges. For sure on the lemon wedges.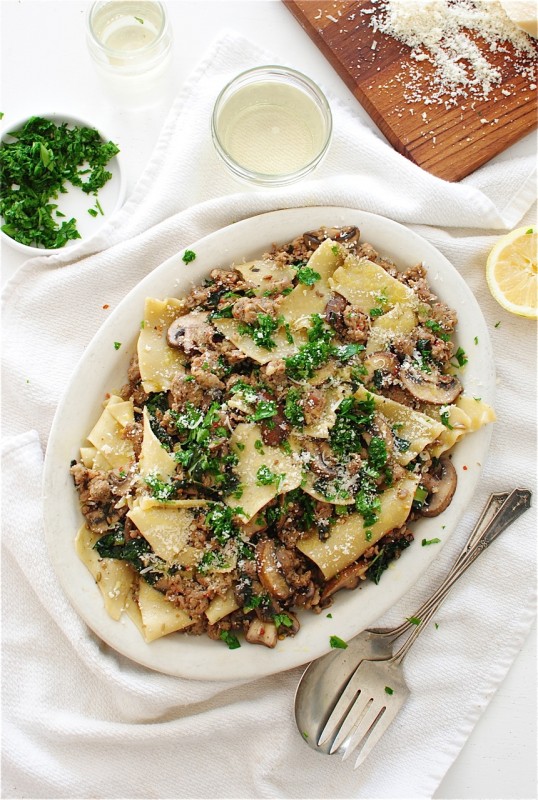 I like new years.