Is it too late to declare this "GRAIN WEEK FOR THE SOUL?"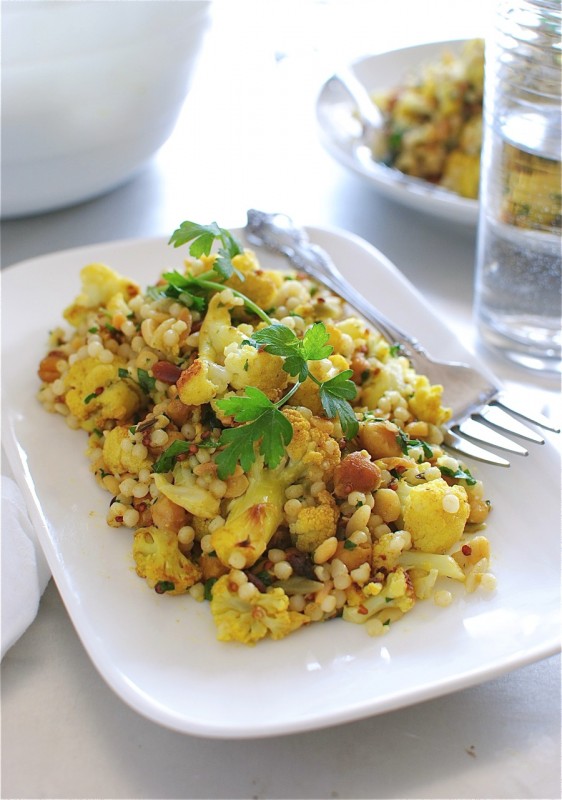 How 'bout for the pancreas? Just kidding.
I just realized with Sylvia on Monday and the quinoa biz yesterday and now THIS? All these mofo grainz, boyyyyy.
By the time Friday gets here though I'll have to call it "OPPOSITE OF GRAIN WEEK FOR THE SOUL" becauuuuuuse you'll see. It's not a grain. Yet it's yums for the soul. And desserty. And creamy. And has the word pud in it. Sort of. Never mind.
What I'm trying to tell you is, I made something vegan again!
But first, let's have a quick chat about this here grains situation and why my title actually says "With Grains." Isn't it so kerplunky? WITH GRAINS, BLAH. I had no idea what to do here, because, you see, the bag of grains that I chose was from Trader Joe's, one of those mixed bags that has everything in it, a mix, of everything, quinoa, Israeli couscous, orzo, baby garbanzo beans, all dried up and ready to boil, and I love commas, and then you cook it, and it's ready, just like that, to mix with whatever else you make, to eat, and I should stop this sentence right now, but I'm in a trance, a comma trance, a grain trance, and can't snap out of it.
Sorry I'm so annoying.
The message here in all of this is, it's up to you. The paths you take in life, the decisions you choose. You have the power. The GRAIN POWER. Choose wisely, grasshopper.
Or you know, don't. Whatever.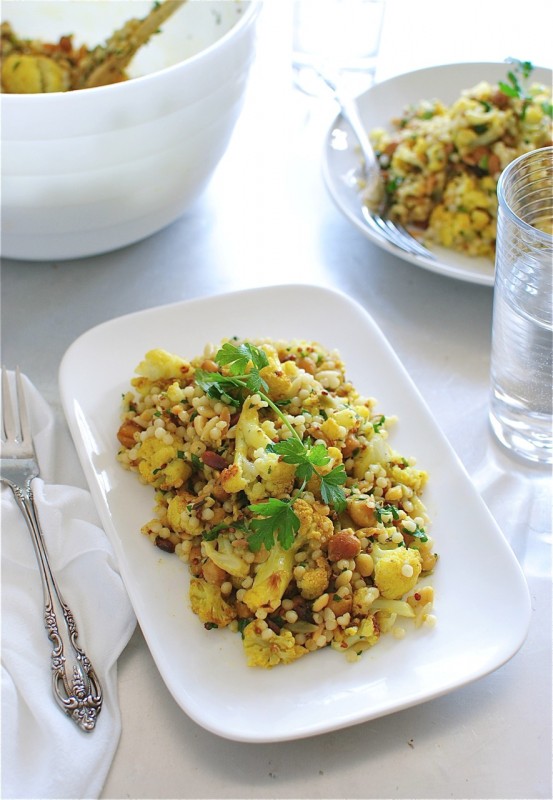 Can I just tell you though that the chickpeas and cauliflower are all roasted up nicely with curry powder and some fresh thyme? And then gently tossed with the cooked grains, a bunk ton of fresh parsley, lemon juice and toasted pine nuts? Can I tell you this? Because I'm gonna.
The chickpeas and cauliflower are all roasted up nic – I'm just kidding.
Eat this as a side dish, or from a trough. You have the power.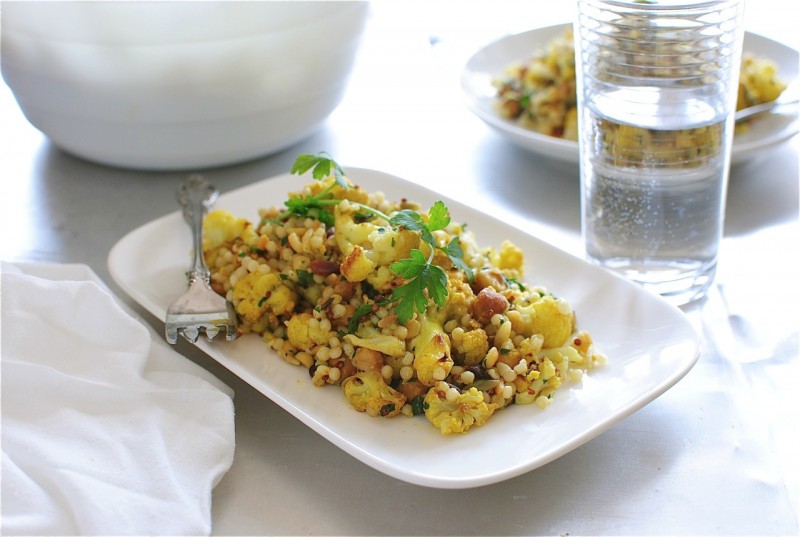 THE GRAIN POWER.
Roasted Curried Cauliflower and Chickpeas with Grains:
What it took for 4 servings (or even 6 to 8 as a side):
* 1 head cauliflower, broken into florets
* 1 (14.5 oz) can chickpeas, drained, rinsed and pat dry
* 1 1/2 Tbs. favorite curry powder
* 2 sprigs fresh thyme
* 2 Tbs. extra-virgin olive oil
* 1 pinch coarse salt and freshly ground pepper
* 1 1/4 cup favorite grains (quinoa, couscous, israeli couscous, orzo, what have you)
* juice from 1/2 a lemon, plus more for garnish
* 1 cup roughly chopped parsley leaves (or less if a cup seems like a ton)
* 2 Tbs. lightly toasted pine nuts
Preheat oven to 400.
On a rimmed baking sheet, toss the cauliflower and the chickpeas with the curry powder, thyme, salt, pepper and the oil. Roast for 30 minutes, or until the chickpeas are crispy and the cauliflower is gorgeous and tender. (toss about half way through)
In the meantime, bring a small pot of water to a boil. Add the grains and cook until tender. How long will depend on what you choose. I had a Trader Joe's bag of mixed grains that was pawfect.
In a large bowl, combine the cooked grains with the roasted goodies, the parsley, lemon juice and pine nuts. Give it all a good toss. Taste it. Might need another pinch of salt? Ger fer ert.
Serve with more fresh lemon wedges. omg.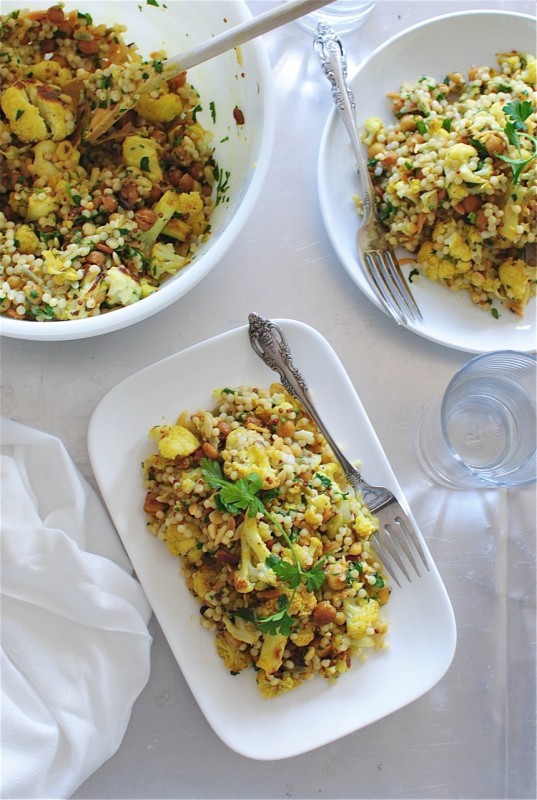 I'm so going to make us Grain Power t-shirts.