Before we spiral into the vortex of chest hair-growing, involuntary grunting, crotch-scratching and Arsenio Hall arm-pumping-style dude food this week, we need to prepare our stomach cavity.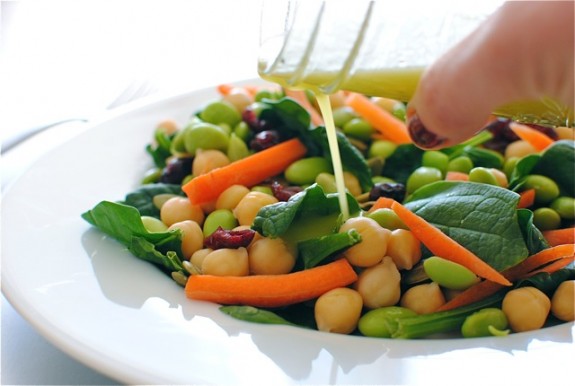 We need to massage it and stretch it. We need to put a damp towel around its shoulders and squirt cold water into it. Give it pep talks, sing it inspirational tunes, take it on a long sunset-y beach walk. Braid its hair.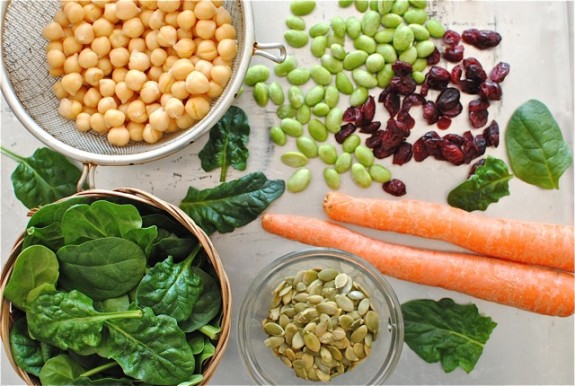 That's almost the weirdest thought I've ever had.
I had this OMG moment at Trader Joe's a few weeks ago. You know how it's always a bad idea to go into a grocery run hungry? Right. Well, as I was perusing the salad counter and gnawing on my metacarpals, I grabbed a pretty spinach salad all packaged up real pretty with a bunch of other pretty stuff inside. I cut my errand short (but not without 2 Buck Chuck, YOU CAN BREATHE) and drove home so I could eat and bandage up my hand.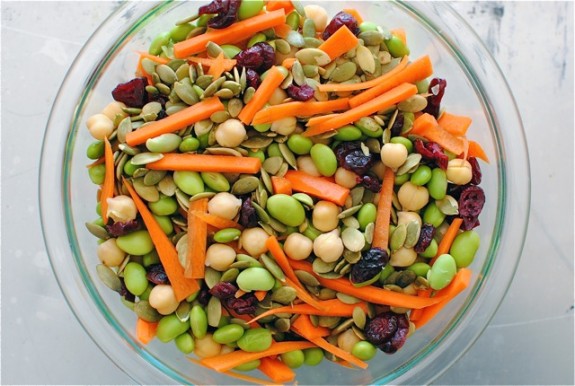 And I had two thoughts:
* This is seriously the best salad in existence!
* I can make this at home!
* I hope this coconut oil really does deep condition my hair!
Three, whatever.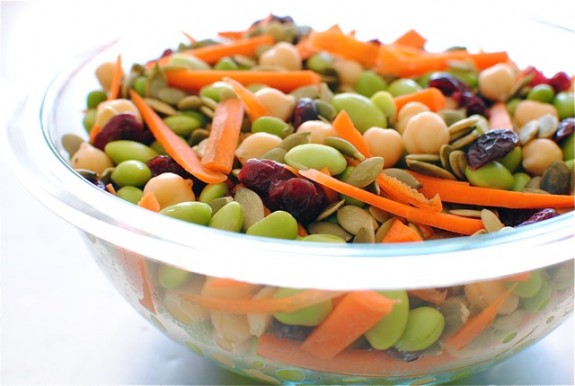 AND, get this. You can prepare the "guts" on Sunday, seal it in an air-tight container and have instant salads ANYTIME YOU DREAM ALL WEEK WHENEVER.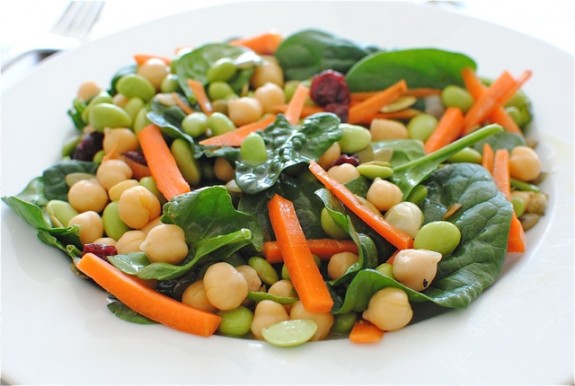 Cleaaaaanse yo'self.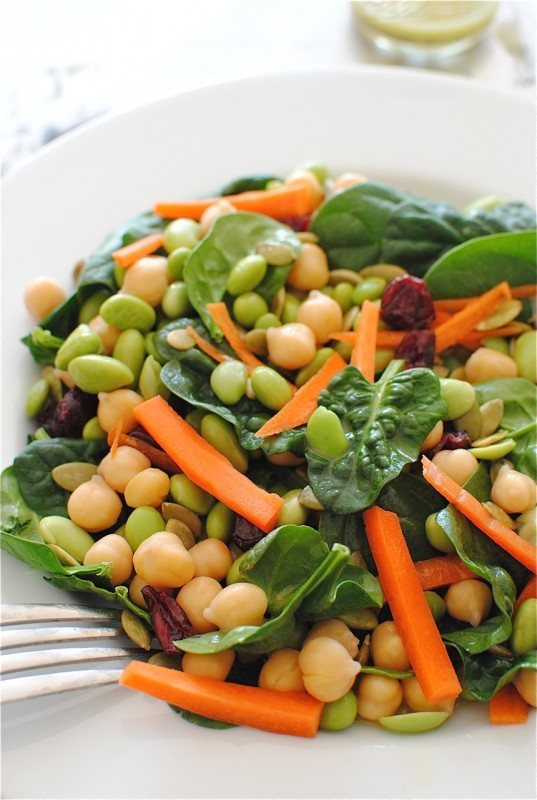 Don't ask me what my weirdest thought is. Things are going too well for you and me.
Spinach and Edamame Salad:
What it takes for 4 salads:
* 1 (14.5 oz) can chickpeas, drained and rinsed
* 1 (10 oz) bag of frozen edamame
* 1 cup dried cranberries
* 1/2 cup pepitas
* 2 large carrots, finely sliced
* 10 cups baby spinach, divided
* 2 lemons, juiced
* 1/2 cup extra virgin olive oil
* coarse salt and freshly ground pepper
Cook the edamame in boiling water according to package directions. Drain.
Once cooked, let cool about 5 minutes.
In a large bowl, toss the edamame with the chickpeas, dried cranberries, pepitas and carrots.
In a small bowl or jar, whisk or shake the lemon juice with the oil, along with a good pinch of salt and pepper. Voila, dressing.
Arrange 2-ish cups of spinach on a plate, and top with the edamame mixture. Dress the salad with the lemon dressing and….lunch!
*You can use whatever dressing you prefer. I just happen to be obsessed with straight up lemon.